Upscaling Employees to Maximize Company Potential and Growth

The ever-increasing role technology and innovation play in today's workplace mean that even the most educated and trained workers will require varying degrees of upskilling, retraining, and upscaling employees to meet current and future demands. And with the talent pool getting increasingly competitive, organizations that do not provide those education and training opportunities may fall behind those who do.
Several recent workplace trends find workers looking for meaning, a desire for flexibility, and training to keep pace with technological transformation. Kimo Kippen, Founder of Aloha Learning Advisors, follows, understands, and helps organizations deploy the right strategies to capitalize on these trends.
As the talent crisis plays out today, DisruptED's Ron J Stefanski wonders if employees are as well-trained as they need to be and if companies are as plugged into the situation as they should be in terms of upscaling their employees. Kippen joined Stefanski on the program to shed light on the problem and provide answers.
"Coming out of COVID, there were many silver linings, and there was a great deal of learning that took place," Kippen said. "Everyone's trying to get to where that next normal is. It's always going to be in transition; it's in constant flux."
Stefanski and Kippen's conversation includes the following…
● What an organization's people need and want to enable success
● How educating front-line workers can be a competitive advantage
● Matching customer needs and demands with the proper hiring and training
approaches
"For today's employers, all of our research points to one of the top things that keep CEOs awake at night is around talent," Kippen said. "And are they going to have the talent for today and the future and tomorrow?"
Kimo Kippen is an accomplished, visionary thought leader and sought-out keynote speaker committed to making a difference in the world by inspiring business and civic leaders and employees to think outside the box and actualize what is possible. Kippen holds a B.A. from the University of Hawaii at Manoa and an M.S. in Career & Human Resources Development from RIT. In addition to founding Aloha Learning Advisors, Kippen was the V.P. of Global Workforce Initiatives and former Chief Learning Officer for Hilton and continues to teach Human Resources at The Catholic University of America in Washington D.C.
Latest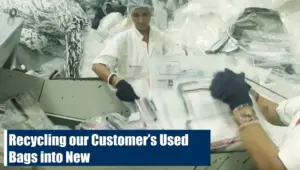 December 6, 2023
This video focuses on EcoLOK4, a groundbreaking product by CONTROLTEK that exemplifies innovation in sustainability. It highlights the process of transforming landfill waste into new deposit bags, with 90% of each bag's material being repurposed trash. This initiative not only reduces waste but also closes the sustainability loop, demonstrating CONTROLTEK's commitment to environmentally friendly […]
Read More