Will Free Online Courses Be EdTech Companies' Silver Bullet for Market Differentiation?
India's edtech industry is working to be the global leader in online tools, curriculum and platforms. If the flow of capital is a good litmus test, both the short- and long-term outlook would point to India being on the right track. High profile startups like Vedantu are actively securing millions of dollars in new investments, while leaders in the space like Byju are buying U.S. edtech companies to expand their presence in the Western markets.
In response to this boom, U.S. edtech leaders are trying to get creative with their competitive edge, leveraging accessibility campaigns and Indian education entrepreneurs to so do. Google-backed edtech company, Cuemath, is responding to a crowded market with free online content offerings, in a hope to capture more potential users and retain market share with a lower barrier to entry for entry-level courses.
Free content as the venus flytrap of capturing new users is a common strategy for edtech companies. How effective, though, is the free-to-paid pipeline for retaining online learning students on an edtech platform, especially with so many options to choose from? MarketScale sourced Yash Chandra, CEO of learning management system company Academy Of Mine, for his take.
Latest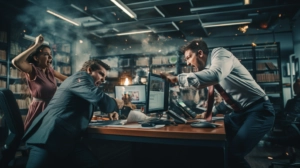 September 22, 2023
The kind of news that is delivered everyday serves as a grim reminder of the escalating violence across the U.S. Evidently, the need for proactive measures to ensure safety has never been more pressing. Such violence is not limited to any particular locale. It's actually permeating in so many different areas once considered […]
Read More