Advances in Underwater Technology will Increase Ocean Exploration. Here's how
Given where technology disruption is pushing new frontiers, it's not just about flying higher – we're also diving deeper. Our oceans cover more than 70 percent of Earth, yet remain vastly unexplored, concealing an estimated 90 percent of species yet to be discovered, according to the National Oceanic and Atmospheric Administration. With emerging technologies and innovative manufacturing techniques, ocean exploration is becoming more accessible, transforming industries from tourism to scientific research.
But how do technology and advanced manufacturing reshape ocean exploration? And how might they revolutionize our understanding of the Earth's last frontier?
Today on DisruptEd, hosted by Ron Stefanski, we dive into these questions with Patrick Lahey, CEO and co-founder of Triton Subs, a pioneer in the construction of specialized submersibles. Triton Subs' ground-breaking approach enables everyday people to explore the vast unknown of the ocean depths and what's next for ocean exploration.
In this episode, Stefanski and Lahey cover:
The evolution of ocean exploration and its technology, from commercial diving to today's advanced submersibles.

The role of material science and manufacturing innovation in creating Triton's unique acrylic-shelled submersibles.

How digital transformation and Industry 4.0 principles are shaping the future of exploration of the ocean.
Patrick Lahey has spent 42 years in the underwater business, beginning his career as a commercial diver before becoming an expert in submersible technology. Lahey, whose passion for the ocean and exploring it was kindled during his childhood years spent on the Caribbean island of Barbados, now helms Triton Subs, a company recognized for its cutting-edge submersible designs and advanced manufacturing techniques.
Latest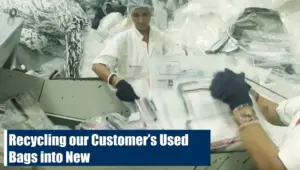 December 6, 2023
This video focuses on EcoLOK4, a groundbreaking product by CONTROLTEK that exemplifies innovation in sustainability. It highlights the process of transforming landfill waste into new deposit bags, with 90% of each bag's material being repurposed trash. This initiative not only reduces waste but also closes the sustainability loop, demonstrating CONTROLTEK's commitment to environmentally friendly […]
Read More