Energy Transformation: EV Charging Capacity and Consumption Impact on Grid
The bipartisan National Electric Vehicle Infrastructure (NEVI) funding bill guidelines offer insight into how EV charging will impact the grid.  Grid impact and demand capacity, energy consumption, and the feasibility of renewable energy, as well as energy storage viability, are the lenses upon which to examine grid impact and demand capacity.
In our first look at EVs Are Electric Vehicles Worth the Investment?, the focus was on the economics of EVs with emphasis on charge time, the need for direct current fast charge (DCFC), and leading EV charging network players.  The focus of Part 2 was DCFC energy intensity and issues around supply and demand. We found that DCFC energy intensity is essentially a commercial building in a box. Our focus here is on the NEVI plan with some context and perspective on achieving these goals.
NEVI Program Overview
The NEVI plan calls for the installation of 500,000 DCFC stalls with a minimum of 4 ports capable of simultaneously charging four EVs. Each EV charging port with a minimum capacity of 150kW. EV energy consumption will depend on EV market penetration. EV energy demand capacity is the issue.
For comparison, data centers and crypto mining activities may consume more energy because they run continuously. Essentially running 24/7 over the course of the year.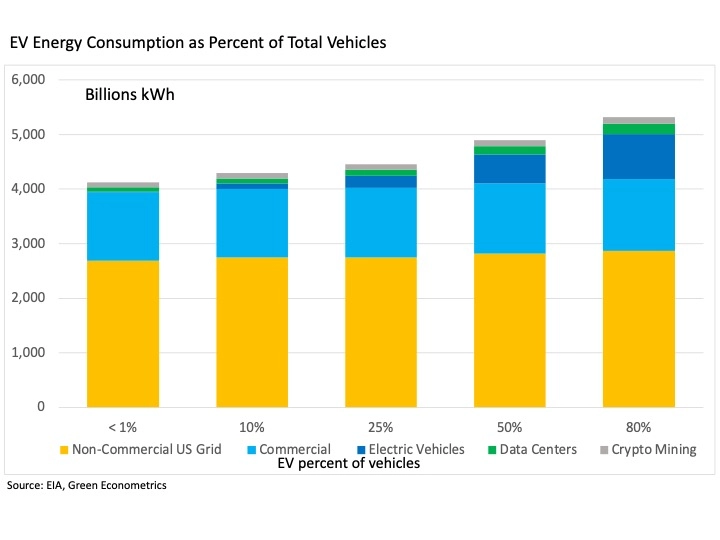 Additional generating capacity to meet the EV charging demand will constrain supply. As noted from the NEVI plan, The NEVI plans call for a minimum capacity of 600 kW per location on long-distance transmission and distribution lines.
To put 150 kW per EV stall over 500,000 stalls into perspective, the NEVI plan would amount to 75 million kW. The US grid capacity in 2021 was 1.14 billion kW according to the US Energy Information Administration. The NEVI plan would require a minimum of an additional generating capacity of 7% above current US grid levels with the potential of 7%-to-15% additional generating capacity.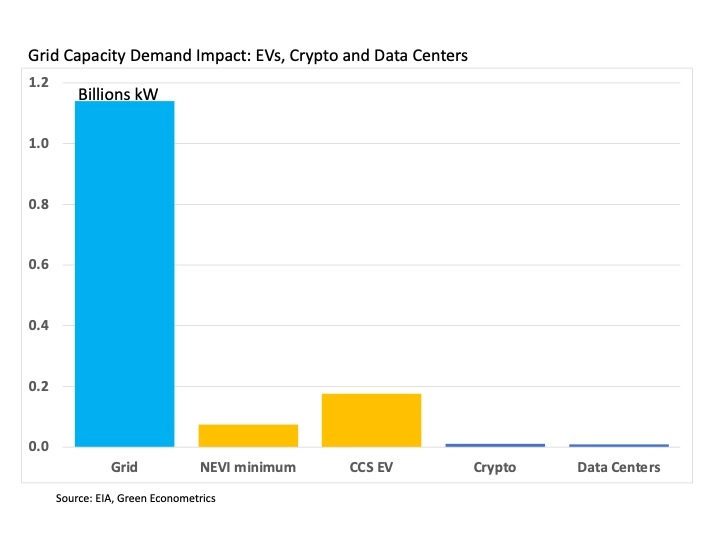 The NEVI plan further calls for 97% operating uptime with data sharing and submittal of kW power, kWh per port, uptime, and session time. The technology must support Combined Charge Systems (CCS) which in turn calls for support of ISO 151118 where plug and charge capabilities employ protocols J1772 for AC charging and DC Fast Charge (DCFC) two-pin DC EV connector that is currently supported by most EV manufacturers.
To meet additional grid capacity, especially for long-distance transmission to accommodate 50 miles spacing along the Interstate renewable energy RE is crucial.  However, these high-capacity EV charging stalls are constrained by the RE generating footprint.  For example, solar generating capacity is roughly 15 watts per square foot and with an EV requiring a minimum of 600 kW, the solar array would amount to nearly an acre of land. In addition, the CCS protocol is capable of supporting 350 kW per stall which would further increase grid capacity requirements by 15% requiring larger solar arrays. Currently, RE small-scale solar photovoltaic electricity generating capacity was 0.03 billion kW in 2021 approximately 2.5% of US generating capacity.
Takeaways
In addition to grid transmission complexities EV charging may require 7%-to-15% additional generating capacity
RE may help but solar requires a substantial footprint to meet the demand of just one location
Energy storage and DER are crucial in supporting RE and grid stability
Action Plans
EV charging business model offers several options for revenues, cash flows, and potential customer engagements
Property owners can leverage interstate existing locations for business opportunities
Facilities such as restaurants, grocery, shopping, and theaters may benefit most
About the Author:
Michael S Davies, CFA, CMVP
Founder
Green Econometrics
mdavies@greeneconometrics.com
Linkedin:  Michael S Davies, CFA – Founder, Data Scientist – Green Econometrics/
Latest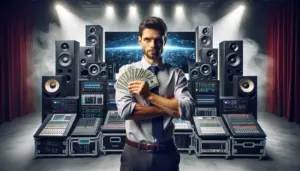 December 8, 2023
Mastering AV sales strategies in a global professional audio-visual (Pro AV) market, poised to reach $79.2 billion by 2028, requires much attention to detail. The surge in demand from corporate, government, and institutional sectors, driven by the need for enhanced productivity and efficient working environments, gives AV sales pros a lot of opportunity. In […]
Read More