Why More Energy Storage Investments are in Everyone's Best Interest
As the world shifts toward more renewable energy and electrical grids struggle to stay online during weather events, energy storage will prove more crucial. Storing energy when things are going well for times when the grid is facing an outage will help those with the capacity stay online.
Here to give insights is Michael S Davies, CFA, CMVP, Founder, Green Econometrics, which delivers consulting, research, the mapping of performance metrics that align to business objectives, analytics dashboards; and the kind of 'disruptive abundance' that is created when analytics are applied to business data, and the enterprise shifts its focus to quantifiable sustainability and digital performance metrics.
Davies discussed electric vehicles, electric utility grids, industrial manufacturing, and data centers.
When it comes to electric vehicles, two things are considered when choosing a car: vehicle driving range and battery charge time. These two key performance indicators are used when making a vehicle purchase decision, and both of these technologies rely on energy storage.
Energy storage is also vital for grid stability, along with other factors, such as renewable energies.
"We find that grid stability and the presence of renewable energies injected into the grid itself add to the complexity and stability of the grid," Davies said. "In this situation, energy storage plays a key role in providing grid stability and with the protection of equipment in the utility market."
In the industrial world, energy storage helps reduce demand for peak energy charges, which will help save money. Those peak hours include hot summer afternoons, where energy demand is high, which drive up energy costs. Energy storage mitigates some of those costs, protects equipment, and provides continuity for energy.
Follow us on social media for the latest updates in B2B!
Twitter – @MarketScale
Facebook – facebook.com/marketscale
LinkedIn – linkedin.com/company/marketscale
Latest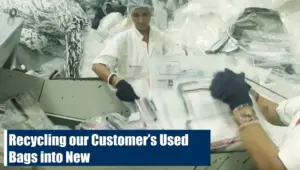 December 6, 2023
This video focuses on EcoLOK4, a groundbreaking product by CONTROLTEK that exemplifies innovation in sustainability. It highlights the process of transforming landfill waste into new deposit bags, with 90% of each bag's material being repurposed trash. This initiative not only reduces waste but also closes the sustainability loop, demonstrating CONTROLTEK's commitment to environmentally friendly […]
Read More