Powering Up the Renewable Energy Market with AI Document Analysis
When you think about the world of renewable energy and AI, document analysis probably doesn't come to mind first. However, AI-powered document and contract analytics are becoming a vital tool as the number and complexity of energy needs grow. Joining Daniel Litwin today to discuss the topic is Kristina Peterson, SVP of Power & Renewables at ThoughtTrace.
The U.S. Energy Information Administration (EIA) projects that renewables will collectively increase to 49% of global electric generation by 2050. With this surge in products comes a substantial amount of complex data and contracts.
"With huge growth in the industry, that means more complex transactions. From asset to management to financing to mergers and acquisitions, it's a lot of data and documentation," Peterson said.
While the use of AI in document analytics isn't new, ThoughtTrace's platform is read contextually for meaning, not words.
"It's also customized for renewables out of the box," she added.
Renewables are highly regulated with obligations for performance as well as the need to meet compliance, which can be different by state. Ultimately, ThoughtTrace seeks to help the market streamline management of projects.
"There are three key areas in the space that matter: managing risk, reducing costs, and increasing revenues. Those using AI-assisted document analytics are more likely not to miss an obligation and optimize the operational perspective. I believe those that don't leverage it will be left behind," Peterson said.
Latest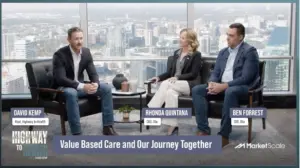 December 7, 2023
As of recent times, the healthcare industry has been progressively shifting towards value-based care, a model that emphasizes patient outcomes over the quantity of services delivered. This transition represents a significant shift that promises to enhance patient experiences and outcomes while controlling healthcare costs. With a growing emphasis on this approach, especially over the […]
Read More