The Colonial Pipeline Cyberattack is a Study on Material Price Fluctuation
The recent successful cyberattack on the Colonial Pipeline sent a shockwave throughout the oil and gas industry beyond in the United States, and it's not serving as a unique case study in how the sector impacts the entirety of the supply chain and many corners of society.
To diagnose the attack's impact and help break down what companies in other industries affected by the incident can do to help insulate themselves from future similar disruptions, host and Voice of B2B Daniel Litwin invited Matador Economics Energy Economist Tim Snyder onto this episode of MarketScale TV.
Matador is an economic consultancy firm focused on applying macroeconomic data to supply and demand models to help companies in price discovery for today and the future, meaning it's uniquely positioned to conduct a post mortem on the recent cyberattack and explore what it could mean for market movements.
The duo also dove into some of those strategies for insulating financial movements, particularly within the oil and gas industry, itself, from these types of incidents. In the wake of the Colonial Pipeline attack, consumers across the country scrambled to fill up, hiking up demand, driving up prices and creating localized shortages that had nationwide impacts.
Follow us on social media for the latest updates in B2B!
Twitter – @MarketScale
Facebook – facebook.com/marketscale
LinkedIn – linkedin.com/company/marketscale
Latest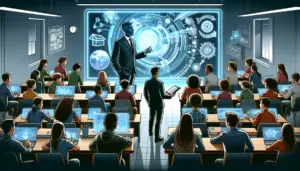 November 27, 2023
In an era where education stands at the crossroads of tradition and innovation, the potential value of thought leadership becomes the guiding star for progress. "Just Thinking" dives into this potential with host Kevin Dougherty and guest Evan Edwards, a Professional Learning Specialist at 806 Technologies who exemplifies the transformative impact of visionary guidance […]
Read More