Certify Before You Buy—How To Deal With New Machinery
Derek DeGeest, President of DeGeest Corporation and LestaUSA, knows when the industry comes together to help each other, successful integration of robotics and automation into operations follows. After being on both sides of the coin of installing a large finishing system and shepherding in new self-learning robotic technology to North America, it's important to share the combined experiences of DeGeest Corp and LestaUSA to help manufacturing grow.
DeGeest wants to encourage other general industry manufacturers to bring new machinery into their operations. But, there is also a cautionary tale to be told. DeGeest shared his company's ulcer-inducing experience and learnings when, as a contract job shop, they installed a large finishing system. A new state regulatory interpretation on machinery vs equipment almost shut down the entire system.
Without certification, the machinery was useless. "We had to find a way to learn the regulatory system and work with every group to find a solution," DeGeest said. "And we did. Fast forward, three years later, we now have the largest robotic painting system in the contract job shop world in North America."
DeGeest also walks through the process of getting Lesta's robot technology NRTL certified and the importance of having this certification in North America. Launching Lesta's proven robotic system's in North America proved to need a different set of classifications than European standards that required multiple system changes.
DeGeest recognized when dealing with new machinery and equipment in the marketplace; regulators have an impossible task. "Changing technology in manufacturing is so fast that it doesn't keep up with the code, and it is hard for them (the regulators) to interpret how they're supposed to apply that to the new machinery that's coming out," DeGeest said. "That's what happened to us. Our machinery was newly interpreted as equipment according to the codebook, so they didn't know what to do." DeGeest worked with the regulators to hammer out a solution, rewrite the code, and create a path forward for other industry companies. Why? Because at DeGeest Corporation and Lesta USA, they believe a rising tide lifts all boats.
Follow us on social media for the latest updates in B2B!
Twitter – @MarketScale
Facebook – facebook.com/marketscale
LinkedIn – linkedin.com/company/marketscale
Latest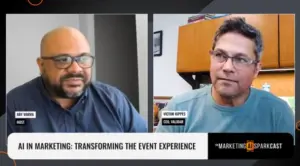 November 28, 2023
AI has been gradually changing the landscape of event technology at a very rapid pace. In an industry where staying ahead of technological trends is crucial, AI's impact on marketing and event management has become increasingly significant. As witnessed in the rise of account-based marketing and enhanced personalization, AI is effectively reshaping how events […]
Read More