Cooler News: An Inside Look at KPS Global's New Marketing Coordinator Role
Now that KPS Global has homed in on the goals we want to achieve in the new year, we're expanding our team to help us get there. One of the new roles being offered is the Marketing Coordinator position, which will focus heavily on content generation and collaboration with KPSG's subject matter experts.
Cooler News host Daniel Litwin looks to Ashleigh Martin, KPSG's Director of Marketing, to provide some insights to any hopefuls looking to ace the interview process.
"[The ideal candidate is] someone who's a go-getter, inquisitive and likes to learn. There isn't a rule book for teasing out information from subject matter experts, so the process just needs to be a genuine one from someone who wants to understand an industry," Martin said.
Meanwhile, the role itself will "focus on content generation, really dialing into some of the sales leads we're getting from the website, and making sure we're generating content that helps support people through the sales process," she added.
However, Martin was also quick to note that the details of what they do may not be readily accessible to candidates. She revealed that she only learned a lot about thermodynamics and insulated panel systems once she started working at KPS Global, but now she finds them interesting.
"I don't think that anybody would say that walk-in coolers are sexy, but, at the same time, what we do is really important, so we've got to figure out how to turn something that's very mundane and make it interesting… [This person must be] able to generate excitement from something that feels very day-to-day," she said.
To apply for the position, click the Careers tab in the footer below and find the Silk Road application portal under the Fort Worth location.
Follow us on social media for the latest updates in B2B!
Twitter – @MarketScale
Facebook – facebook.com/marketscale
LinkedIn – linkedin.com/company/marketscale
Latest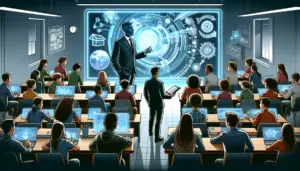 November 27, 2023
In an era where education stands at the crossroads of tradition and innovation, the potential value of thought leadership becomes the guiding star for progress. "Just Thinking" dives into this potential with host Kevin Dougherty and guest Evan Edwards, a Professional Learning Specialist at 806 Technologies who exemplifies the transformative impact of visionary guidance […]
Read More