As Inflation Rises, How Will Construction Sites Be Affected?
Key Points:
Labor and building materials are in short supply at construction sites across the country.
The lingering shortage of skilled workers has worsened, leaving builders to add high labor costs.
Scott Roudebush provides insights on inflation in the construction industry.
Commentary:
It's no secret that rising costs and shortages of building materials, as well as a higher cost for labor, are rippling across construction sites. With workers putting their leverage in action in demand of better pay, work conditions, or otherwise, the subsequent shortage of willing skilled workers has gotten worse than anticipated, forcing builders to factor in higher labor costs to attract workers back on-site. Inflation is being felt across the economy, as well, compounding these financial disruptions. MarketScale asked Scott Roudebush, Founder & Principal of The Legacy Group, how he sees inflation affecting workforces within construction, where opportunities exist for digital transformation construction sites, and how these transformations intersect with the industry's financial challenges.
Abridged Thoughts:
There's no question that the current inflationary environment is affecting the cost of labor in the construction industry in the same way that we saw raw material prices increase in recent months. Companies are going to respond by offering more people-based programs. We've seen Chipotle and Starbucks offer scholarships for their employees. I think there will be more of a discussion around the career of employees as opposed to just hourly wages. Companies that can hire, retain and develop their people internally are going to have a market advantage over the rest of their competitors just because they're able to staff up projects and they're able to keep their knowledge in-house. 
More Stories Like This One:
Latest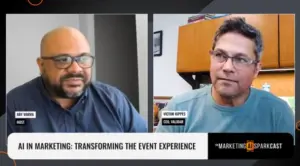 November 28, 2023
AI has been gradually changing the landscape of event technology at a very rapid pace. In an industry where staying ahead of technological trends is crucial, AI's impact on marketing and event management has become increasingly significant. As witnessed in the rise of account-based marketing and enhanced personalization, AI is effectively reshaping how events […]
Read More