Conveying Progress: Project Management Is the Key to Being On Time and Under Budget
Project management is a discipline that a wide range of industries use. When they have skilled people in the role, it leads to successful projects and happy customers.
To explore its importance, Conveying Progress host Tyler Kern chatted with Amanda Dahshan, Senior Project Manager at Benda Manufacturing, Inc.
Dahshan first explained how she found her role. She started as a technical sales engineer, but a massive project needed support.
"My boss believed in me and my skills and put me on the project. I put the team together, designed the project, and took it from A to Z. The customer was very happy," she said.
After the first project's success, she began work on another complex one. "I came up with the concept. It was something Benda had never done before, and it worked well. The customer was satisfied," Dahshan said.
Dahshan then became a full-time project manager, filling the role of being the customers' point of contact.
"Before, the customer had many people contacting them, which can be confusing. As a project manager, I was the one handling all communications."
Being that central liaison for the customer allowed Dahshan to build relationships with customers and earn their trust. She also noted that consistent communication from the start minimizes mistakes that could otherwise derail the project's budget and timeline.
"I also want to stay up to date with the customer, so I know if there are changes on their end. I always start with a confirmation meeting to explain the process and make them feel comfortable," she said.
Dahshan also noted that the company's ability to complete projects to the customers' satisfaction results from a true team effort. "The team understands the importance of project management. If changes in design or specifications occur, they come to me."
Follow us on social media for the latest updates in B2B!
Twitter – @MarketScale
Facebook – facebook.com/marketscale
LinkedIn – linkedin.com/company/marketscale
Latest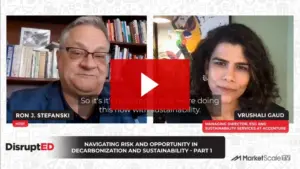 September 26, 2023
The global conversation has shifted dramatically towards decarbonization and sustainability in recent years. With the world experiencing unprecedented levels of disruption, from 5G technology to the challenges of a pandemic, the urgency to address climate change and its implications has never been more palpable. Although most business leaders see the vision of Sustainable Development […]
Read More