FABTECH 2022 Attendees Want Automation, Supply Chain Solutions, and Shop Floor Quality-of-Life
FABTECH 2022 is wrapping up in Atlanta, where the top suppliers, solutions providers and innovators met to talk shop on what's bringing more productivity (and profitability!) to industrial work everywhere. North America's largest metal forming, fabricating, welding and finishing event heads gathered to explore bleeding edge technologies and game-changing innovations to the bread and butter of shop floor machinery, like: additive manufacturing, robotics, finishing & plating/painting, tooling, machine controls, material handling, and more.
MarketScale's on-the-ground team stopped by several booths to get a pulse on what attendees were most interested in this year, what was sparking conversation, and how exhibitors are hoping to solve the most pressing challenges for manufacturing with their products. Here's what we heard.
Automation, Automation, Automation
Manufacturers everywhere are turning to robotics to supplement their shop floor workflows, seeking to improve productive efficiency, reduce lead times, better weather changes to their workforce, and invest in scalable solutions that are prepared for the on-going Industry 4.0 evolution. This energy behind smart manufacturing is baring out in the numbers, too. Installations for industrial robotics are projected to steadily increase from 2019 through 2024, reaching as many as 518,000 units worldwide. The size of the global market for automotive robotics alone, for example, is set to nearly double from 2020 numbers by 2028. Intelligent manufacturing is gaining such investment momentum in the automotive, metal fabrication, chemicals and electronics sectors, that it's actually leading revenue for the entire robotics industry.
One of the leaders in the space, KUKA, has seen a rising influx of revenue in the last 10 years with 2021 being it's second-most profitable year in the last decade behind 2017. Clearly, demand is there for precise, intelligent and robust robotics systems. Matt Jurczyszyn, VP of Solutions at KUKA, found that automotive OEMs were clamoring with interest for their solutions.
"The products that we see a lot of interest in here at FABTECH 2022 is our friction stir welding robot. You can see this large 500 kilogram robot with a specially designed KUKA gear box that makes it very stiff. On the end of it, we have a rotating tool which we use to drive the rotating tool into sheet aluminum products. And then we can put a weld on it that's roughly eight millimeters deep. We get a lot of interest right now from the automotive industry for battery trays, for electric vehicles. So with our robot, we have the ability to do straight lines, round curves, or even three dimensional surfaces."
Also top of mind for everyone at FABTECH 2022 is the manufacturing labor shortage crisis. There are still conflicting narratives about the stability of the manufacturing labor supply. The recent national October jobs report shows manufacturing jobs are finally up from pre-pandemic levels, a welcome surprise for the industry. On the other hand, state-side economic reports highlight the need to still staff nearly 800,000 jobs across the country, with 11,000 alone in states like Connecticut. There's still uncertainty about the long-term stability of the manufacturing labor pool, and those are the big questions professionals like Donald Wenzel at Sames are fielding this year.
"We've been hearing people discussing when they're coming into our booth at the show. Right now, they're interested in automating their powder systems. They're interested in electrostatics, they're interested in automation. Mainly, they want to get away from the human element. They want to get involved where they don't have to worry about having enough employees to do the job on a day to day basis."
Finding Creative Solutions to Long Lead Times
Everyone at FABTECH 2022 is talking lead times. Supply chain delays aren't slowing down.
Across the board, a new SAP survey found more than half of U.S. companies expect supply chain issues to remain a thorn in their side into 2023. Manufacturers are expanding their supplier partnerships to multiple companies and multiple countries in response; AmCham Shanghai finds 19% of companies have cut investments in their Chinese manufacturing footprint this year.
High-precision automation solutions companies like Güdel are finding ways to stay nimble amid supply-side delays as interest in their solutions grows and grows. Here're Mike Peek's thoughts on how the company is adapting.
"From an industry-wide standpoint, there's obviously sourcing issues going on right now. Lead times for particular products and components and things like that keep getting extended. So projects wind up getting extended. So we, like everybody else are dealing with that and we're working with new companies and finding ways to supplement single source vendors, going to multiple vendors, and expanding that so that we don't run into those same issues. And that's industry wide. Everybody's doing that.
Specifically within Güdel, we are expanding press automation. There's a drive towards that and, like everybody else, robotics, automation, it's all growing and we're just a part of the rising tide. We're enjoying that growth. And these supply-side issues, they will work themselves out. It may take a little time, but they will work themselves out.It's sort of a perfect storm. You have EVs and batteries consuming a lot more copper. By 2030, they expect all the copper to be used in that year to match what was used between 1900 and the year 2000 in a single year. So that obviously affects things like cables and things like that. But that's not unique to Güdel. That's everybody dealing with those issues."
Sustainability and Safety Remain Interlocked Priorities
As more and more industries, as well as individual companies, feel the pressure to adopt and adhere to ESG goals, the expectations around what defines a successful, forward-focused, and stakeholder-driven business evolves. The manufacturing sector at large is no stranger to this trend, looking toward investments like sustainable product innovation and implementing new modern technologies to push production toward efficiency, a wiser use of resources, and therefore an ESG-minded operation. Specifically on the chemicals side of the industry, according to research out of McKinsey, companies are finding that the more they invest in ESG processes and align with ESG-friendly industries, the more they end up riding tailwinds of value as "investors are placing a premium on chemical products that enable sustainability-aligned end markets."
Susan Conley, Product Application Manager at global process fluids leader Quaker Houghton, said FABTECH 2022 attendees made this a focus of conversation as they learned more about Quaker Houghton's industrial chemical solutions and their applications.
"The things that we hear a lot from customers and prospective customers are mostly right now around reliability of supply. The ability to make sure that our customers can keep running, and in addition to that, the interest in sustainability. Being a chemical company, we get a lot of questions not only in terms of the types of chemicals that we're using, but the amount and the waste streams and what we can do to make things safer for employees, our communities and the environment."
3D Printing is Fully in the Manufacturing Mainstream
After years of proving the 3D printing concept and finding utility in niche market verticals (like Formula 1's early adoption of 3D printers for prototyping), additive manufacturing is finally being adopted at scale in industrial settings. The number of 3D printing devices, clocking in at around 136,000 devices globally, are projected to explode in prominence to nearly 650,000 devices by 2030, according to Transforma Insights. Among other edge investments like robotics and IoT for the shop floor, new Deloitte studies find manufacturers (33%) are putting additive manufacturing on their list of efficiency-focused investments over the next 12 months, which couldn't come at a better time as manufacturers struggle against long lead times. Some manufacturers are already investing in 3D printing to help soften supply chain woes and bring more small-scale production of critical components in-house.
3D printing industry leader Formlabs, which recently hosted its very own annual User Summit with organizations like NASA, Peloton and Hasbro showing off their 3D-printed manufacturing work, has been a FABTECH staple for several years now. Jim Webb, Inside Sales Specialist at Formlabs, noticed that the use cases and interest in 3D printing from manufacturing professionals is at an all-time high.
"In my opinion, I think 10 years ago, we're not really having the conversations we're having now with regard to 3D printing. So tooling, fixturing, a lot of new things and new ideas are being tossed around here at the trade show And it's just cool to see the people's reactions to something like this. That's an all in one assembly, no assembly required piece by our Formlabs Fuse 1. So I think there are really cool interesting conversations being developed here."
New & Old Pros Want a Safer Shop Floor
Quality of life on the job is a demand from employees of all stripes, and the manufacturing sector is no exception. As the standards for what defines a successful, stakeholder-centric operation evolve, so do the demands for investments into solutions and workflows that address workplace safety. This is especially the case post-COVID, with a new audit from the DOL's Office of the Inspector General claiming that OSHA didn't do enough to protect workers during the pandemic. The pressure is on at a top-down federal level and the bottom-up employee level for companies to show that they're investing in things like air filtration, improved safety standards, and revamped emergency protocols for the sake of an improved workplace.
Jeremiah Wann, President at Imperial Systems, has been at FABTECH for 10 years, and he said there's been a clear evolution in how manufacturing companies and their employees talk about air quality, workplace safety, and general expectations for the workplace.
"Over that 10 years, what we've seen a lot is just a change in the way people address air filtration in weld shops. You know, the old days, people used to have dirty floors and extension cords dragged out all over the floors, and the air quality really wasn't a concern. It was all about, 'how much product can we get out the end of the day and what our profitability is.' And while it's still always about profitability and how much product you can get out the door, I think people in the industry are finally saying, 'we can do this safer, we can do this cleaner, and we can do this in a much more professional way.'
Today they talk a lot about how we can get employee retention. Some of this younger crowd, you bring 'em in your plant and they really want to see what you can do for them and what the environment is like in the facility and what it looks like, and can I brag about this place to my friends and can I post it on social media, stuff like that. And so that's why we're real big on clean factories, clean floors, clean everything about what you do. And we're finding that people are receptive to that, they're very proud, they take a lot of pride in taking customers and people through their plants now. Their employees are happier. It's just a better, cleaner work environment. We're excited about that because we're at the forefront of this. We build air filtration equipment and we integrate it into places like that. Out customers are people that really care about the environment and their employees."
Latest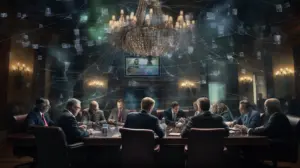 October 3, 2023
In August 2023, the National Institute of Standards of Technology (NIST) put out a request for comments on the Preliminary Update from the Internet of Things Federal Working Group (IoTFWG), which aims to provide the nation direction on how to improve IoT adoption and expand its use cases for the future of industrial, corporate, […]
Read More