Protecting America's Crumbling Bridges with Galvanized Rebar
It's no secret that America has a crumbling infrastructure problem, notably when it comes to our nation's bridges which are reaching the end of their useful life. Many of these structures were built to last only a few decades, but are now aging past the half-century mark and beyond. So why were they not constructed with longevity in mind?
On this episode of the Engineering & Construction podcast, Mike Stroia, national marketing specialist at AZZ GalvaBar, shared some infrastructure history and how galvanized rebar can help safeguard bridges against collapse.
"The majority of bridges in the U.S. and throughout the world don't have any kind of protection whatsoever," Stroia said.
He estimated that only 20% have some form of coating that can act as a shield against harmful corrosion. Galvanizing applies a zinc coating that reinforces rebar steel to give it unbeatable durability. However, rebar doesn't easily lend itself to galvanizing.
As Stroia explained, galvanizing is a costly process that requires a lot of man-hours and handling. Faced with the added expense, short-sighted governments and private owners simply weren't keen on investing in long-lasting products. But it seems like all that penny pinching has a price of its own.
"The most costly is the deck structure, and once that begins to fail there's not a lot of time left in the bridge," Stroia said.
The good news is that mindsets are starting to change.
"We think the marketplace is turning the corner on using corrosion-resistant products," he said.
Those writing checks for new toll roads, parking structures, and bridges finally understand that paying a little more money upfront can buy a lifetime of protection.
Stroia also reminded listeners that AZZ GalvaBar is partnering with Texas A&M and the International Zinc Association to put on a seminar on August 28 which includes a live webinar and an in-person event. He invited interested community members to come and tour the university's impressive engineering facility at College Station and hear his presentation on the future of galvanized rebar.
For the latest news, videos, and podcasts in the AEC Industry, be sure to subscribe to our industry publication.
Follow us on social media for the latest updates in B2B!
Twitter – @AECMKSL
Facebook – facebook.com/marketscale
LinkedIn – linkedin.com/company/marketscale
Latest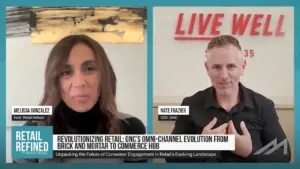 November 29, 2023
The transformation from a traditional brick-and-mortar store to an integrated commerce hub is crucial in the fast-evolving retail landscape. GNC's omni-channel evolution epitomizes this shift, blending in-person and digital experiences to meet the contemporary consumer's demands. But what does this mean for the future of retail? "Retail Refined," hosted by Melissa Gonzalez, welcomes Nate […]
Read More