Mainstream Modular: Commercial Modular's Momentum
The current affordable housing crisis in the U.S. impacts both the traditional single-family home market as well as the commercial multifamily space. Years ago, when the country faced a similar demand, modular construction rose to the challenge for single family homes and is now being called on as a solution to also help in the multifamily arena. For perspective on the situation, "Mainstream Modular" Host Hilary Kennedy reached out to an expert with more than 25 years of manufactured construction experience, Joe Uhlenkott. Uhlenkott, a business development manager with Guerdon, has a wealth of experience in manufactured and modular homes, and vertically constructed buildings.
While single-family modular construction plays a more prominent role in rural markets, commercial modular is critical in urban areas where affordable housing is most needed today.
While Uhlenkott's vast experience in the single housing market didn't make him an automatic fit for Guerdon's commercial work, he fell in love with multifamily living right away. "When that [Guerdon] opportunity became open, I was like, 'Wow, I am going to learn something so new and so fantastic,'" he recalled. "Back seven years ago when I started, modular commercial was still pretty new. It's been around a long time, but not a lot of people have been utilizing it, especially in the Western U.S."
Planning and timing are two of the most significant differences between single-family housing and commercial multifamily projects. What typically took one to two months to complete in the single-family market can take upwards of a year or more in commercial multifamily.
"It's taking that whole concept of manufacturing but involving a whole team into the process," Uhlenkott said.
Latest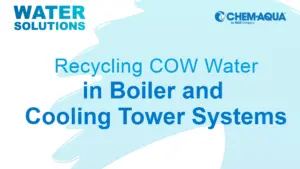 December 7, 2023
For the latest episode of ChemAqua's Water Solutions podcast, the focus was on an innovative approach to water conservation in the dairy industry. The show examined the potential of reusing Condensate of Whey (COW) water, a byproduct of dairy processing, and highlighted some of its economic and environmental benefits. Hosted by Dani Waddell, the informative […]
Read More