Pearson Solutions Group Launches Syntakt Packaging Integrations: Packed With Pearson.
On this episode of Packed With Pearson, Host Tyler Kern talked with Scott Reed, Vice President of Sales for Syntakt Packaging Integrations, and Michael Senske, President of R.A., Pearson Holding Company. They dug into the big news of the formal separation of Pearson's System Solutions Group from Pearson Packaging Group. The packaging side of the business is now Syntakt Packaging Integrations.
"Historically, Pearson Packaging Systems has been a company that's focused on producing individual discrete machine centers, packaging machinery, and small cells," Senske explained. "Several years ago, we started offering complete end-of-line solutions."
With these new solutions, the Pearson System Solutions Group emerged to create fully integrated solutions. But, for various reasons, there's been confusion about who does what, so they decided to launch a separate organization that isn't machine-oriented.
"What we really wanted to do is kind of launch a separate organization that really is not machine-specific," Senske said. "Its role isn't to design and manufacture packaging machinery. It is really to provide engineering services, project management services, integration services, and provide customers with complete end-of-line solutions."
The overall end result is a business that is a separate entity with a separate core competency, with a separate group of employees. This new entity is Syntakt Packaging Integrations.
"We're really focused on the end-of-line … full turn-key systems on the end of the line," Reed said. "Case erect, case pack, case seal, palletize, and many of the technologies that are intermingled in that."
Latest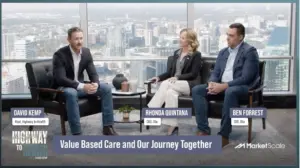 December 7, 2023
As of recent times, the healthcare industry has been progressively shifting towards value-based care, a model that emphasizes patient outcomes over the quantity of services delivered. This transition represents a significant shift that promises to enhance patient experiences and outcomes while controlling healthcare costs. With a growing emphasis on this approach, especially over the […]
Read More