Real Estate, Entrepreneurship and Navigating Uncertain Times: Dirt Work
On this episode of Dirt Work, we were joined by Bob Campana of Campana Capital, a real estate development and investment firm based in Cleveland, OH. Born into a family of entrepreneurs, Bob told the story of his family's manufacturing business, which he later joined, in the steel, foundry and pipe and tubing industries and shared lessons applicable to people and professions, including the importance of who you surround yourself with and finding good mentors.
Bob highlighted how real estate owners can work with struggling tenants by being proactive, listening to the tenants, asking what they need to get through this and prioritizing empathy.
Bob discussed how the current COVID pandemic is different than the previous downtowns of 08'/09' and the market scale in 1980s. Considering the reality that "with change comes opportunity", we took a closer look at how this pandemic may impact real estate and development in various sectors including office, industrial, residential and retail:
Industrial: "The reality is that people have to go back to work…so not sure how much impact that this pandemic will have on the industrial market."
Office: "The office segment is going to have some changes…there may be an opportunity to for more office as tenants decrease density…however, remote is here and could likely impact the office market but the cards are still yet to be played."
Residential: "Haven't seen too much impact yet. There are a lot people that may be looking at their house saying, 'this house is too big', this house is too small, these stairs are too many, etc.' and wondering if they need a change. To date there hasn't been a slowdown in absorption".
Retail: "Home delivery and drive-throughs are become more prevalent".
In the episode, we also discussed what factors would separate winners and losers in this uncertain time. Operators need to be reminded to prioritize building a strong balance sheet and multiple streams of income through diversification during good times to prepare for market adjustments.
"Every time there is a market downtown, those who are not entrepreneurial and proactive are going to be on the back side," Campana said.
Regarding areas that could be areas for future opportunities, Bob believes in the Eastern Seaboard and the South East for future areas for opportunities but don't thing any area is bullet proof.
Bob is an avid reader and recommends many books, publications and other resources, Teddy Roosevelt's Man in the Arena speech, Napoleon Hill's Think and Grow Rich, Dale Carnegie's How to Win Friends and Influence People, Farnam Street Newsletter, and James' Clear 3-2-1 Thursday.

Latest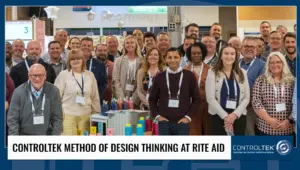 December 4, 2023
The video showcases a dynamic workshop titled "CONTROLTEK Method of Design Thinking at Rite Aid," highlighting the collaborative and innovative efforts between CONTROLTEK and Rite Aid teams. It features scenes of brainstorming, prototype development, and group discussions, emphasizing CONTROLTEK's customer-centric approach to problem-solving and innovation in retail solutions. The workshop demonstrates how cross-functional teams […]
Read More