Shining a Spotlight on Pipe Fusion
Jeff Turner, Sales Channel Manager for McElroy, and Ryan Ethier, creator of the Facebook group Gods of Fusion and Western Canada Utility Sales Manager at ISCO-AH McElroy, joined host Tyler Kern for the first episode of Connections, a new podcast series by McElroy.
This series is dedicated to the pipe fusion industry. McElroy, an industry leader in pipe fusion since 1967, uses thermoplastic piping in all types of infrastructure projects and applications. Turner and Ethier provided their insights on what McElroy does and what this series is all about.
While 2020 proved to be a challenge for McElroy, like it was for many areas of business, they weathered the storm by finding new opportunities to reach customers through online training, something so successful they will be continuing with this through 2021.
Turner said there is a lot to look forward to.
"One thing 2020 taught us was we were able to expedite the production of some of our online courses for operator qualification. You can do some things before arriving at a location to get your qualified operator hands-on experience that you can do online," he said. "That allowed us to expedite that process not only for the PE side but also for the polypropylene side. And, of course, we're also adding our podcast to the mix. So, it's an exciting time for us to be informative and to talk to people and educate them."
Knowledge exchange is an important part of the pipe fusion industry, and learning and sharing information with others fuels Turner and Ethier's passions.
Ethier created Gods of Fusion to help share his passion with like-minded folks.
"The pipe fusion industry is not just an industry; it's like a big family," Ethier said. "The other passion I have for it (pipe fusion) is we're installing something in municipalities, in mines, aquaculture, agriculture, and all kinds of infrastructure that doesn't leak. It's a great product for everybody."
Follow us on social media for the latest updates in B2B!
Twitter – @MarketScale
Facebook – facebook.com/marketscale
LinkedIn – linkedin.com/company/marketscale
Latest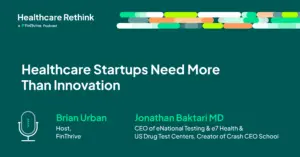 December 11, 2023
Healthcare startups need more than innovation; they require dynamic leaders willing to take these endeavors beyond the ordinary into uncharted waters to generate unparalleled success and lead the industry forward. In the latest episode of The Healthcare Rethink Podcast, host Brian Urban sits down with multifaceted healthcare leader Jonathan Baktari, MD, CEO of eNational […]
Read More