Orange Intelligenz: The Benefits of RoboSpin for Aluminum Welding
Oxidation buildup is one of the challenges faced when trying to spot weld aluminum. Even when creating a good weld, oxidation can build up on the weld tips.
"Buildup of oxidation causes inconsistencies in the welds," Andre Young said. Young is a Business Development Manager for Automotive OEM and Tier 1 at KUKA Robotics.
According to Young, each OEM and Tier 1 manufacturer of sheet metal has its techniques to combat oxidation issues. Sometimes, they will abrade the surface to remove the oxidation layer, and other people will perform a chemical cleaning on the aluminum. No matter the method, over time, oxidation buildup will require tip dressing to clean up the spot-welding tip.
Another tool in the tool belt for spot welders is KUKA Robotics' RoboSpin, application software that executes rotational motion about the TCP (tool center point) during the welding process.
It prevents adherence of the tips to the metal, which improves weld quality and extends tip life.
"The rotation performs the abrading as it creates the weld and wipes the tips clean as it's rotating," Young said. "You're getting good contact with the aluminum, reducing that resistance at the surface, directing energy to where you want it and creating a good weld."
Follow us on social media for the latest updates in B2B!
Twitter – @MarketScale
Facebook – facebook.com/marketscale
LinkedIn – linkedin.com/company/marketscale
Latest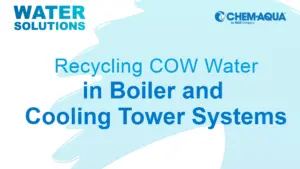 December 7, 2023
For the latest episode of ChemAqua's Water Solutions podcast, the focus was on an innovative approach to water conservation in the dairy industry. The show examined the potential of reusing Condensate of Whey (COW) water, a byproduct of dairy processing, and highlighted some of its economic and environmental benefits. Hosted by Dani Waddell, the informative […]
Read More