The Valve Chronicles: Pressure Control Guideline Differences in Aircraft Fueling Operations Between the US & Europe, Part 2
On this episode of The Valve Chronicles' look at the differences in aircraft fueling operations between the US and Europe, Cla-Val's Tom Boriack, Global Market Manager for Fueling, and Richard Hooton, Market Manager, Aviation & Ground Fueling, EMEA for Cla-Val Europe, joined host Tyler Kern for a discussion on the origins of vehicle design and the differences between the two regions. While Boriack might have felt as if Hooton had the edge over the past three episodes, could this be the discussion that finally handed the advantage over the United States?
Equipment design was the topic, but Boriack said one of the big standouts in the difference between the US and Europe was how each used the equipment. "People in the industry know we have hydrant systems," Boriack said. "I think it's something like 335 airports globally now which use hydrant vehicles for fueling aircraft. The remaining airports use refueling trucks, tanker trucks, bowsers."
The most significant nuanced difference is the US uses stationary hydrant vehicles. Boriack said the US also used hydrant fueling trucks or dispensers. In Europe and globally, moving hydrant fueling trucks are the most relied on method. "They don't really have stationary hydrant vehicles," Boriack said.
There are many factors why the US utilizes stationary hydrant vehicles while Europe does not, and Hooton wanted to know why? One of the reasons, Boriack said, could have to do with the fact that many airlines have set gates within airports in the US, and in Europe, there is an open gate system. It is more challenging to have a stationary fueling setup when different aircraft types owned by several airlines are fueling at multiple gates.
Latest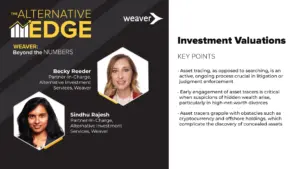 December 4, 2023
In this episode of The Alternative Edge, a Weaver: Beyond the Numbers Podcast, host Becky Reeder, an audit partner and co-leader of the alternative investments practice at Weaver, engages with Sindhu Rajesh, an Alternative Investment Services Partner with Weaver. They unpack the complexities of venture fund valuations, offering critical insights into industry dynamics and best […]
Read More