"Unleashing 'Machining as a Service': Automation Systems' Role in Modern Manufacturing
Automation systems are shifting the dynamics of manufacturing, transforming it into a realm of integrated solutions rather than isolated tasks. Driven by the challenges of the modern labor market, companies like Pearson Packaging Systems are harnessing the potential of 'Machining as a Service.'
This trend not only addresses staffing concerns but also optimizes cost and efficiency in an increasingly competitive landscape. The integration of such services, rooted in a deep understanding of automation and precision engineering, speaks to the future of the industry, where adaptability is key.
As companies seek to satisfy the multifaceted needs of their clientele, comprehensive, adaptive, and technologically advanced solutions take center stage. Herein lies the promise of an industry that is not just about manufacturing products, but delivering integrated, efficient, and advanced services. A
At the heart of this transformation is Pearson Packaging Systems, setting new standards for the industry's future. As we delve further into this transformative journey, we turn to Gabrielle Bejarano , Media Producer & Podcast Host at MarketScale. In this episode, she focuses on Pearson Packaging Systems, a company shaping the narrative of this automation system revolution.
Latest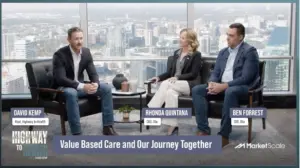 December 7, 2023
As of recent times, the healthcare industry has been progressively shifting towards value-based care, a model that emphasizes patient outcomes over the quantity of services delivered. This transition represents a significant shift that promises to enhance patient experiences and outcomes while controlling healthcare costs. With a growing emphasis on this approach, especially over the […]
Read More