Widening Efforts to Provide Traffic Relief in Dallas-Fort Worth
Take a drive to Dallas lately, and commuters and visitors may notice something different about I-35; it's wider.
A $666 million effort, called the Southern Gateway Project, wrapped its completion on November 30, 2022. The project widens the eastbound lanes of I-35 as well as creates reversible non-tolled express lanes. In addition, Highway 67 received a widening.
That's not the only traffic relief designated for the Dallas-Fort Worth area; the Southeast Connector Project, a $1.6 billion effort, launched on the same day The Southern Gateway Project wrapped. This ambitious project will widen I-20 and I-820 over a 16-mile stretch and rebuild interchanges between the two freeways and Highway 287. Construction will continue through a projected completion in 2027.
These two projects aim to provide traffic relief in one of the fastest-growing areas in the United States. Still, James Golden, CEO of Pavement Management Group, wonders if widening alone can cure congestion.
James' Thoughts
"Hey, what's up everyone? James Golden, founder and CEO of Pavement Management Group. It recently came to my attention that Texas DOT is looking to widen Interstate 35 south of Dallas there due to what congestion problems. And here's one thing that I can tell you about congestion problems of widening projects.
While the logic simply is there, if you widen the roadway, add more lanes, should free that up. Unfortunately, that's the contrary. We'll just say that there's plenty of supporting documents and studies and case studies out there along the lines that put this as well, and here's why. Think of the Kevin Costner movie, Field of dreams. If you build it, they will come, Apple maps, Google maps, Waze. As soon as you open up these roadways, it's gonna find that there is a quicker route and it's gonna draw your attention. And over time, you're just gonna have more and more cars and truck traffic on those routes. Now what's the real solution here?
I'm not gonna say I've got that answer today because here's the other thing that I do know, the current process for rewarding these types of projects, or funding these types of projects, the mechanism is widening. So, until that changes, until that narrative changes, I think this is what we're gonna continue to see from our dots as we continually try to solve these congestion issues.
Until the next one, James Golden, Founder, CEO, Pavement Managment Group. Thank you.
Latest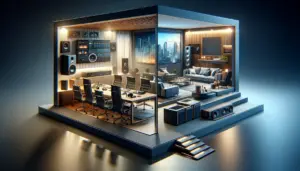 November 27, 2023
In this episode of "Pro AV Today," host Ben Thomas sits down with Audra Kinsley of Sonos Professional to unpack a topic that's causing (sound) waves in the audio industry: the fusion of commercial and residential audio systems. As we navigate through a landscape where consumer and professional audio worlds are increasingly intersecting, Sonos steps […]
Read More