IKEA's Forward Thinking Strategies
Built on the concept that in return for low prices, people are willing to spend more time on assembly, and by placing great value on the "immersive experience", IKEA has become the world's largest seller of furniture in the world. However, in order to meet the ever-evolving expectations of today's consumer, IKEA has announced some strategic changes to their current business model.
While many loyal IKEA shoppers don't mind the hassle of shopping in a brick and mortar environment and hours of at home assembly, others are motivated by the pleasure principle—seeking pleasure while avoiding pain; in other words, instant gratification. With the idea of quick, cheap delivery and open-the-box-and-use-it ease, IKEA announced its acquisition of the TaskRabbit website platform and app which outsources tasks and deliveries to local handypersons.
IKEA's unique in-store shopping experience has attracted buyers since the 1950s. However, according to the Pew Research Center, footfall has been on the decline over the last two years. And while online sales only accounted for 4% of IKEA's 2016 revenue, website visits have increased by more than a fifth since 2012. It's becoming increasingly apparent that customers now want both physical and digital shopping options, and IKEA is responding by expanding their e-commerce while still making plans for physical expansion in established markets.
The biggest change, however, is IKEA's intention to utilize third party online platforms (think Amazon or Alibaba), in addition to their own website, to sell furniture. Although they would necessarily relinquish some branding control while inciting comparisons in price, and perhaps quality, with their online competition, IKEA hopes this strategy will garner additional sales from those shoppers unwilling to set foot in a store.
Furthering their brand loyalty, IKEA continues to place convenience, experience, and choice at the forefront of their strategic thinking, providing alternatives that save customers both time and money.
 
Latest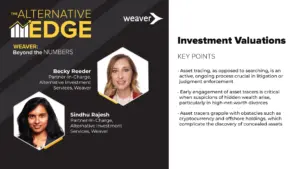 December 4, 2023
In this episode of The Alternative Edge, a Weaver: Beyond the Numbers Podcast, host Becky Reeder, an audit partner and co-leader of the alternative investments practice at Weaver, engages with Sindhu Rajesh, an Alternative Investment Services Partner with Weaver. They unpack the complexities of venture fund valuations, offering critical insights into industry dynamics and best […]
Read More