Commercial Farming Initiatives That We Would Have Seen At Expo West 2020
Sustainability is a significant focus in commercial farming—doing so consistently and seamlessly takes work and action. Its presence is felt by the individual farmer all the way to global food companies. What many might not know is that each farm has a story to tell with its data and efforts that food manufacturers want to know. Jessie Deelo, a leading consultant in achieving sustainability in food and farm supply chains, does just that through her work.
"I work with farmers to help them tell their story and share data that can benefit the entire supply chain. Designing impact programs for agriculture's supply chain is what we derive from this data," Jessie said.
The realities of the current agricultural landscape are that there are global challenges. Much of that has to do with biodiversity. According to the Food and Agriculture Organization of the United Nations (FAO), there are only nine crops accounting for 66% of production.
Additional concerns and issues for the modern farmer include climate change, soil health, water quality and quantity, and farmer livelihood. These challenges are true for every spoke in the supply chain. Jessie is attempting to solve the problems with data.
"The most exciting part of my job is building an impact program at the farm level. Farmers get the scientific information they need along with technical and financial assets to support initiatives. This program then has a significant positive impact on sustainability," Jessey shared.
Interested in learning more about commercial farming? Watch the full interview for more insights.
Latest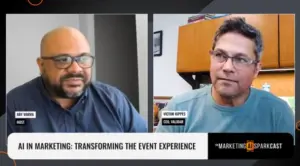 November 28, 2023
AI has been gradually changing the landscape of event technology at a very rapid pace. In an industry where staying ahead of technological trends is crucial, AI's impact on marketing and event management has become increasingly significant. As witnessed in the rise of account-based marketing and enhanced personalization, AI is effectively reshaping how events […]
Read More