Fervor for Plant-Based Meat Could Help Tackle Climate Change
Can we, as good stewards of the world, address our collective impact on the environment? Most professional climate researchers agree that to do so, rather than make small personal changes to our daily habits, we need to address the few companies and industries most heavily polluting the earth.
One of those key industries includes agricultural output, as factory farming and industrialized meat production, along with oil and gas production to be fair, have clocked methane pollution at its highest level in 800,000 years. Practices like regenerative agriculture are part of the recommended actions, but could there be a bigger culture shift underway with plant-based meat? If the number of investors and popular brands entering the plant-based meat industry is any indication, this could be a market ripe for transforming our agricultural footprint.
Here's how Dr. Darren Burke, Co-Founder & CEO of Outcast Foods, sees the mass trend toward plant-based meat intersecting with our battle against climate change.
Latest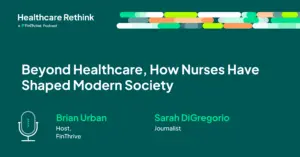 December 4, 2023
Nurses Have Shaped Modern Society beyond healthcare to stand as pivotal figures that transcend their traditional roles, influencing the broader spectrum of societal change. Healthcare Rethink, a FinThrive podcast hosted by Brian Urban, welcomes Sarah DiGregorio, Journalist, Author, and Speake,r to discuss her second book, "Taking Care: The Story of Nursing and Its Power […]
Read More