Here Are Two Ways Restaurants Can Recoup Their Losses This Holiday Season
If it's November, that means one thing: the start of the busy holiday season for restaurants. This year could be different for restaurants from seasons past. Rising costs and supply-chain issues mean restaurants must prepare to face new challenges during the busy months of November and December. The economic pressures of inflation may not curtail consumers' desires to celebrate the holidays at restaurants, but they could be more selective in their dining experiences.
Barbara Castiglia of Modern Restaurant Management and host of The Main Course podcast suggests two things people will look for out of restaurants this holiday season. The first is value. "People want to know when they go out; they are going to get a good value for their money," Castiglia said. "And the second thing is, and it is definitely more important at this time of year, they're looking for a good experience."
The holidays are a time for making memories, which restaurants can capitalize on by creating holiday scenarios. A recent OpenTable diner survey indicated 93% of diners are excited to celebrate the holidays by going to dinner at their favorite restaurant. Seasonal themes with magical atmospheres can keep guests returning throughout November and December. Adding food and drink specials to the mix will create an experience that Castiglia says will make a restaurant a place people want to be during the holidays. "And people are willing to pay for that experience," Castiglia said.
Castiglia reached out to Austen Asadorian, Senior Vice President of Sales at SevenRooms. Seven Rooms specializes in guest experience and retention platforms. Castiglia asked Asadorian what he believes will entice guests this holiday season and generate revenue opportunities for the restaurant. Asadorian recommends that restaurants consider unique offerings such as holiday brunches with a chef's table offering Thanksgiving favorites paired with wines that complement the restaurant's menu. Other ideas for restaurants include offering special holiday promotions and even small gifts to patrons, a token of appreciation during the season that can make guests feel special.
Restaurants that capitalize on customer data could have a leg up on the competition this holiday season. Data provides an opportunity to understand the guest and the guest's journey. Knowing things such as allergies and customer ordering preferences allows a restaurant to capitalize on personalized experience in ways previously unavailable. "It's a great way to tailor things for the guest that will ultimately be part of creating those memories for them," Castiglia said.
Latest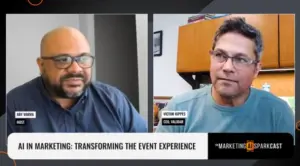 November 28, 2023
AI has been gradually changing the landscape of event technology at a very rapid pace. In an industry where staying ahead of technological trends is crucial, AI's impact on marketing and event management has become increasingly significant. As witnessed in the rise of account-based marketing and enhanced personalization, AI is effectively reshaping how events […]
Read More