Home Delivery World Recap
Phononic made a remarkable impression on attendees at the Home Delivery World tradeshow, solidifying their reputation as an innovative leader in solid-state cooling and heating solutions. Their captivating presence and forward-thinking technology left a lasting impact on industry professionals who were eager to explore the future of home delivery and logistics.
Phononic's booth at the tradeshow was a hub of excitement and innovation. Showcasing their cutting-edge refrigeration systems, Phononic captivated attendees with their sleek designs and advanced features. The booth's interactive displays and demonstrations showcased how Phononic's solutions are revolutionizing temperature control in the home delivery sector.
What truly impressed folks at the tradeshow was Phononic's ability to address the unique challenges faced by home delivery services. From maintaining food freshness during transit to optimizing last-mile logistics, Phononic demonstrated how their technology ensures precise temperature control throughout the delivery process. Attendees were captivated by the energy efficiency and reliability of Phononic's solutions, which contribute to reducing waste and enhancing customer satisfaction.
Phononic's knowledgeable team engaged with attendees, offering valuable insights and customized solutions tailored to the specific needs of home delivery providers. Their expertise and commitment to excellence resonated with the audience, earning Phononic accolades as a trusted partner in the rapidly evolving world of home delivery.
By impressing folks at the Home Delivery World tradeshow, Phononic reinforced its position as a trailblazer in temperature control technology for the delivery industry. Their innovative solutions and ability to address key industry challenges left attendees inspired and eager to explore the transformative potential of solid-state cooling and heating in the home delivery landscape.
Latest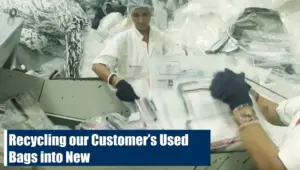 December 6, 2023
This video focuses on EcoLOK4, a groundbreaking product by CONTROLTEK that exemplifies innovation in sustainability. It highlights the process of transforming landfill waste into new deposit bags, with 90% of each bag's material being repurposed trash. This initiative not only reduces waste but also closes the sustainability loop, demonstrating CONTROLTEK's commitment to environmentally friendly […]
Read More