Keeping Community First Helped this Independent Grocery Store Thrive During COVID-19
Nearly every business has felt the impact of COVID-19. Grocery stores in particular are uniquely positioned to service their customers during this difficult time. Voice of B2B Daniel Litwin spoke with Norm Gold, President of The Market at 25th, an independent grocery store in Richmond, Virginia, on the struggles the global food supply chain is experiencing during COVID-19.
The Market at 25th services a food dessert and aims to provide an underserved community with healthy food. "We're here to really help out the community, it's really about serving the community in an area that's been underserved for a long time. So, we deliberately built it to serve all races, all diversity, all incomes and welcoming to everybody," Gold said.
With the onset of COVD-19 came supply challenges. "When COVID hit, it affected all grocery stores pretty much the same way, because everyone came in and [began] panic buying and they bought everything," he continued, "We're no different than anybody else as far as the toilet paper aisle, the sanitation, the wipes, the bleach, all that was wiped out," Gold explained. When it comes to the non-perishables that were in-demand, it's taken a while for them to return, because the transportation and distribution centers weren't ready to handle such high demand, even though manufacturers could meet those needs.
The available supplies were then distributed across all stores so each could have some access to new stock, making it challenging for individual stores to meet all customer demands. Manufacturers identified what items they had to focus on and stopped the production of less in-demand items. Gold noted that it will take some time to see grocery stores stocked with the same variety and quantity of products as before, but we will see a return to normalcy one day.
Follow us on social media for the latest updates in B2B!
Twitter – @MarketScale
Facebook – facebook.com/marketscale
LinkedIn – linkedin.com/company/marketscale
Latest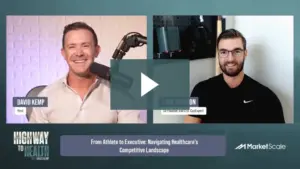 September 28, 2023
Navigating healthcare's competitive landscape requires innovative solutions addressing care quality and affordability. CapExpert is a game-changer in outpatient healthcare. It enhances asset management, ensuring the best care for patients. Luke Johnson, Co-Founder and CEO of CapExpert, spoke with Highway to Health's David Kemp on how CapExpert enhances asset management, bridging visibility gaps and streamlining […]
Read More