What Is Competing With the Catering Market This Holiday Season?
As the weather continues to get colder and fewer and fewer weddings are scheduled, catering companies turn to holiday parties as a main source of revenue. While corporate holiday parties have changed in size and format in recent years, with companies that once held large events for 200 guests or more now holding maybe three events for 25 guests each, they still account for around 12 percent to 15 percent of annual revenue for catering companies.
With the plethora of delivery options now available to customers and businesses like GrubHub, DoorDash and UberEats, it is essential for catering companies to utilize technologies that distinguish themselves from other food service options.
The first priority for catering companies is a strong online presence, especially one that is easily accessible through mobile devices. It is crucial that customers experience a simple streamlined process so that they do not move on to the next company. Once a user-friendly website has been established, the company needs a program for facilitating bookings. Programs like Gather make it easy for caterers to present booking options to clients, coordinate schedules with clients and staff, and track booking history.
With many clients searching for the most convenient and affordable option, Gather allows a company to quickly generate a proposal and send it to the interested client. Sara Mendoza, of Fifth Wheel Catering said, "Gather is one of the best tools I've used. It's very user-friendly and when you tell them something that you would like added, like a new feature, they actually listen."
The platform allows guests to easily find all desired booking info electronically and also provides a checklist for the employee to guide them through each step of the booking process.
Once the event has been booked, the food then needs to be made and transported. One distinguishing advantage that catering services have over other delivery options is how they handle and care for the food. Chicago-based Tasty Catering is one company that has been trying to market this difference by emphasizing the fact that their drivers, as opposed to those of a delivery service, "are certified sanitarians, who understand food-safety issues."
Two technologies that help ensure that the catered food experience exceeds that of regular delivery, are those of Cambro and Sterno. Cambro has a line of insulated food transport carts which allow large trays of food to be kept heated until the desired serving time. These containers allow food to be transported easily and lock in much of the heat that is normally lost between the time that the food leaves the kitchen and when it reaches its destination.
Using "CFC-free polyurethane foam insulation," Cambro also has carts that come with two compartments so that cold and hot food can be transported together and both be kept to their separate temperatures for more than four hours. Once the food has reached the desired catering location, Sterno has a line of products that are designed to keep the food warm for the customer. Often their portable warming products will be placed under chafing dishes, allowing the customer to enjoy hot food. Sterno's chafing dishes include WindGuard chafers which are designed to keep food hotter and keep the flame from blowing out, in addition to keeping the flames concealed from guests. Its ChalkBoard Chafer even allows for caterers to list details about the food on the chafer itself, including dietary restriction and allergy information.
With the corporate shift to smaller parties and "more casual meetings," catering companies need to differentiate themselves and make good use of the technologies available to them if they want to remain in the game this holiday season.
For the latest news, videos, and podcasts in the Food & Beverage Industry, be sure to subscribe to our industry publication.
Follow us on social media for the latest updates in B2B!
Twitter – @FoodMKSL
Facebook – facebook.com/marketscale
LinkedIn – linkedin.com/company/marketscale
Latest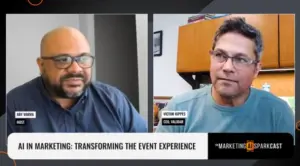 November 28, 2023
AI has been gradually changing the landscape of event technology at a very rapid pace. In an industry where staying ahead of technological trends is crucial, AI's impact on marketing and event management has become increasingly significant. As witnessed in the rise of account-based marketing and enhanced personalization, AI is effectively reshaping how events […]
Read More