Why Healthcare and Design Must Co-Exist in Medical Spaces
Watch as hosts Daniel Litwin and Tyler Kern are joined by Clarus Director of Vertical Sales Jason Pierret. Clarus is an industry-leading producer of glass dry-erase boards. The three discuss the upcoming Healthcare Design Expo as well as larger design trends and technologies. The conference is a showcase for the latest products and innovations for healthcare environments, and takes place in New Orleans from Nov. 2-5.
Bringing thought leadership to your morning routine, MarketScale Mornings will keep you informed with industry experts on the latest trends, events and news in B2B.
Tune in to the show weekly on Thursdays at 9 a.m. CT.
For the latest thought leadership, news and event coverage across B2B, be sure to check out our industry pages.
Latest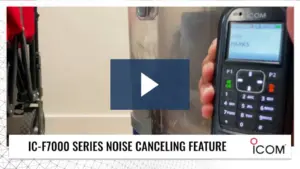 September 27, 2023
In this brief product demonstration video, ICom's IC-F7000 Series receives a mic test of its noise-canceling feature. Through the two demonstrations it is clear the IC-F7000 removes loud ambient noise for clear two-way communication.
Read More