Stopping the Next Foodborne Outbreak Before It Occurs
It seems like every year, at least one foodborne outbreak terrorizes the nation, prompting Americans to throw away millions of tons of food. On this week's podcast, food safety advocate and Ionogen president and CEO John Shanahan shared his insight into a new approach food providers are taking in order to prevent another outbreak from gripping the country.
According to Shanahan, last year growers threw away $2 million worth of romaine lettuce following an E. coli outbreak. People fall ill and die from foodborne diseases all the time, which can have a negative impact on farms, restaurants, and grocery stores.
"This issue of produce safety, and even meat and cheese safety, is a huge problem," Shanahan said.
When outbreaks occur, the first thought is to look to the farmer and their practices to trace the pathogen; farmers are naturally inclined to point elsewhere for the outbreak origin. It's difficult to locate where the pathogen originates, and the responsibility could fall on packing houses, process plants, restaurants or grocery stores.
But a change is underway. Operators in the food supply chain are working together to identify and prevent problems before they occur. What is bringing this unity? New technology. Now there are metering devices that farmers use to detect bacteria at their sites, keeping that infected head of lettuce from ever spreading its disease.
Still, Shanahan advised that people at home should clean and sanitize their food before consumption. Contrary to popular belief, a lot of produce isn't grown within the United States; often it's from a different country.
"Better than 40% of the produce that you eat in this country comes from overseas," Shanahan said.
He also advised to shop at the local farmer's market where smaller growers have more control over the cleanliness of their product.
It's a great big world out there, but when you can, buy local and eat local," Shanahan said.
For the latest news, videos, and podcasts in the Healthcare Industry, be sure to subscribe to our industry publication.
Follow us on social media for the latest updates in B2B!
Twitter – @HealthMKSL
Facebook – facebook.com/marketscale
LinkedIn – linkedin.com/company/marketscale
Latest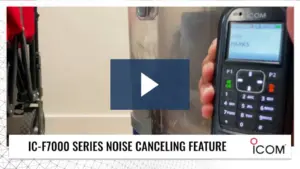 September 27, 2023
In this brief product demonstration video, ICom's IC-F7000 Series receives a mic test of its noise-canceling feature. Through the two demonstrations it is clear the IC-F7000 removes loud ambient noise for clear two-way communication.
Read More