Highway to Health: Special Father's Day Episode
On this special episode of Highway to Health, David Kemp talks with his father, Lieutenant Colonel Dr. Kemp. Dr. Kemp followed his father into the Air Force. He expected to do it for a few years and start a practice somewhere but ended up having a long tenure in the service.
"My dad thought I was crazy for going through dental school and then joining the military," said Dr. Kemp. He saw it as an opportunity to move his family and grow his children's ability to become adaptable. Before Dr. Kemp was born, his father had been a pilot in the Army Air Corps during WWII. Dr. Kemp recalls how his father talked about it and saw his uniforms growing up. He knew his father took a lot of pride in his time as a veteran. Dr. Kemp's dental school classmate got him to consider the path to the services. However, he knew he would want to go into the Air Force.  Dr. Kemp and his wife met when she needed a dental procedure and married within 12 weeks of the meeting, shortly after the new couple moved to Germany for the Air Force.
"We all just want to be like our dads, at the end of it," said Kemp to his father. Our host reflected on the things that stand out from his childhood and lessons from his father. "When I think about the stuff I learned from you growing up… doing the right thing when nobody's looking. That's who you really are. Your character is who you are and what you act like when no one else is around," he said. Of course, the instrumental parent relationship impacts who people grow to be. Dr. Kemp shares the wisdom of his time in the military and as a family man.
"Doing your best, making sure that you're doing the best job you can," Dr. Kemp said, is a key takeaway from his time in the military. Dr. Kemp wasn't afraid of moving with his family every three to four years and saw it as an opportunity to ensure that his children weren't getting stuck in a rut. Kemp reflects fondly on his childhood and his time with his father. Kemp closes with gratitude. "I wanna thank you for the dad that you were, the dad that you are, and the dad you'll always be," said Kemp to his father.
More Like This Story:
Latest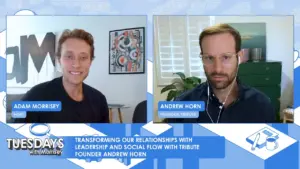 November 28, 2023
Can relationships be transformed through leadership and social flow? Navigating the intricate web of digital relationships can be a tricky proposition. Tuesdays with Morrisey's Adam Morrisey uncovers the transformative impact of emotional recognition in the workplace with Andrew Horn, the mastermind behind Tribute. This podcast edition unravels the story of a platform redefining how […]
Read More