How Health Campaigns Improve Healthcare Literacy
Healthcare organizations' ability to connect with their patients is critical to ensuring their various types of quality care.
In the debut episode of the podcast "Dash Talk," host Gabrielle Bejarano talked with Eric Krepfle, Vice President of Product Management at Relatient, a patient engagement organization that helps healthcare providers and practices foster better relationships with their patients. Health maintenance is a main factor in trying to bridge that gap. So how does it work? By maintaining persistent contact with particular patients, Krepfle said.
Patients with high-risk lifestyles, people who are battling chronic illnesses, and those who live alone can greatly benefit from a health maintenance campaign via their provider, Krepfle said. Oftentimes, it can serve as a reminder in getting ahead of possible issues that are likely to turn up in patients who are more at risk for health follow-ups.
"These health maintenance campaigns should mean outreach to the patient who is handling or dealing with some of these situations, and it provides that constant communication with them about that," Krepfle said. "They're to demonstrate the patient is in an overall community of concern, and the healthcare provider wants to demonstrate that."
Successful campaigning is key to patient engagement because it keeps both the provider and patient actively in communication about the latter's health concerns. However, despite an increase in patient engagement strategies being used in healthcare, Krepfle said general practitioners tend to be behind. "The one type of provider that I'd wish would use them more are just basic general practices," Krepfle said. "We want to encourage them more to stay in touch with their patient census."
He said consistent contact allows the provider to better inform and keep track of their patients, and what they might be up against. In addition, campaigns can help healthcare providers promote other services and wellness advice, such as weight loss, exercise, or gym membership information. The result is exemplary customer retention and trust.
"Keeping in contact with patients outside of that medical situation also promotes that friendly environment, so that if a patient does need assistance, they're more likely to contact the provider who stayed in touch with them … because they're getting these health maintenance campaigns," Krepfle said.
Krepfle maintains that patients can be looked at as customers, and the motto of retaining current customers is more efficient than searching for new ones. He added that healthcare providers routinely staying in contact with their patients is just the surface, noting that other industries have found success in customer retention via campaigns.
Latest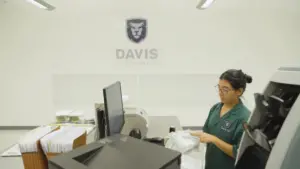 December 4, 2023
The collaboration between Davis Bancorp and CONTROLTEK is a shining example of how shared values and commitment can significantly enhance customer interests. This partnership is rooted in a strong foundation of similarities, with both entities being family-owned businesses that prioritize their people, property, and client service quality. CONTROLTEK's approach is notably innovative and forward-looking. […]
Read More