Pfizer Plans to Request FDA Authorization for Covid Booster
Pfizer Inc. and BioNTech announced plans to request U.S. emergency authorization for a third booster dose of its vaccine. The release states, "Pfizer and BioNTech have seen encouraging data in the ongoing booster trial of a third dose of the current BNT162b2 vaccine. Initial data from the study demonstrate that a booster dose given 6 months after the second dose has a consistent tolerability profile while eliciting high neutralization titers against the wild type and the Beta variant, which are 5 to 10 times higher than after two primary doses. The companies expect to publish more definitive data soon as well as in a peer-reviewed journal and plan to submit the data to the FDA, EMA and other regulatory authorities in the coming weeks." Watch more below as Bloomberg's Robert Langreth breaks down the implications of the announcement.
Host: And Robert, Heidi was just saying earlier that here in the US, everything is back to normal. We're going to get boosters even before they get their first dose. What do we know so far?
Langreth: Yes,  I talked to the head of research today, and they're as you said, they're going to apply for a third dose booster in the emergency authorization in the US in a month. And that's based on a small study of 10 to 20 people that shows giving a third dose that some of the existing vaccine, six to eight months later, that can bolster and neutralize antibody levels by 5 to 10-fold. And they think that's going to be enough to help provide some further protection against, say, the delta variant. In Israel, there's been some mild breakthrough cases there. And it may just be because antibodies are waning a little bit after you've been vaccinated for six months.
Host: Robert, and that's exactly why we're seeing, I guess, more infections in young people who are largely unvaccinated at this point. What is the data showing across the vaccine options as to how effective they are against delta?
Langreth: Yeah, so basically the way to think about it is that the vaccines, especially the more effective vaccines, they're still holding against delta and they still give you strong protection against severe disease and hospitalization against delta. Now, there was this recent report out of Israel that indicated that while the protection against severe disease was still strong, that protection with the vaccine was only 64% against symptomatic disease recently. And Pfizer's thinking is that basically the antibodies have faded a little bit because Israel is one of the first companies to really get going in the vaccination campaign. So some of the first people to get the antibodies might have faded a little bit, and that might allow a very transmissible variant to kind of penetrate through a little bit and cause some initial mild infection before kind of the more longer lasting components of the immune system response kick in.
Host: So what's the outlook for places like Japan, where you have thousands, hundreds of athletes coming in from abroad and they're not fully immunized or the vaccination rollout has been pretty slow still?
Langreth: Well, I mean, this virus is highly transmissible. It's become more transmissible among people that aren't fully vaccinated or aren't vaccinated at all. It's still a definite danger. And people still definitely need to make take strong precautions because it's gotten more transmissible over time, not less.
*Bloomberg contributed to this content
—
Follow us on social media for the latest updates in B2B!
Twitter – @MarketScale
Facebook – facebook.com/marketscale
LinkedIn – linkedin.com/company/marketscale
Latest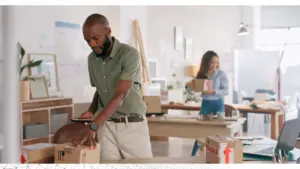 November 29, 2023
While the logistics industry often gravitates toward cutting-edge technology, Wesley Boyce, an Assistant Professor of Practice in Supply Chain Management and Analytics at the University of Nebraska-Lincoln, brings to light the enduring significance of radio communication. In a world enthralled by digital innovation, he argues that the simplicity of radios could be their greatest […]
Read More