Walbro's IDEAL Hand Sanitizer Is the Right Product at the Right Time
It's a helpless feeling we've all had. Enter into a building, stick hands under a machine meant to dispense hand sanitizer, and … get nothing.
During the COVID-19 pandemic, when people are paying more attention to health perhaps more than at any time in history, businesses and workplaces can't afford to have customers or employees feeling unsafe.
That's why Walbro designed the dispensers for its new IDEAL line of hand sanitizers the way it did, limiting physical contact and making it easy to see when it's time to order a refill well before the product actually runs out.
"It would take 80 eight-ounce bottles to equal the amount of sanitizer we have in our easy touch top or touchless dispenser. So, the possibility of our dispenser being empty is significantly lower than other sanitizer dispenser systems," said Ron Lintz, Director of Sales for Custom Products at Walbro. "And we also clearly denote on our dispensers where you're at as far as the sanitizer level and when you should refill the sanitizer to hopefully never be in a situation where somebody comes up [who is] depending on that sanitizer to be there, and the dispenser is empty."
Lintz noted that, while the only way out of the COVID-19 pandemic is through widespread use of masks and social distancing in addition to hand sanitation, sanitizers can be critical, especially in places like airports, sports venues or even on construction sites or at the farmers market.
Walbro jumped into the market not because it was being opportunistic, but because the time was right to provide an alternative.
"Walbro is well-known for fluid delivery systems, primarily in fuel up until this point," he said. "It seemed like a very logical connection for me to spearhead this effort to bring hand sanitation, along with our ability to deliver fluid products in high-volume dispensers. [We are] primarily taking the inverse of what most of our competitors were doing in the marketplace, [which was] elevating the cost of hand sanitizer by taking advantage of a moment of time.
"Our concept really is to provide high-volume hand sanitation at the most cost-competitive price possible."
Twitter – @MarketScale
Facebook – facebook.com/marketscale
LinkedIn – linkedin.com/company/marketscale
Latest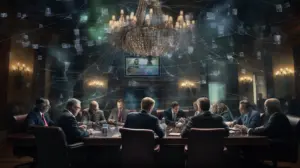 October 3, 2023
In August 2023, the National Institute of Standards of Technology (NIST) put out a request for comments on the Preliminary Update from the Internet of Things Federal Working Group (IoTFWG), which aims to provide the nation direction on how to improve IoT adoption and expand its use cases for the future of industrial, corporate, […]
Read More