The Danger Rogue Devices Present to Health Organizations
Key Points:
Rogue devices are unauthorized access points or unauthorized clients
An unauthorized access point typically has weak and open security allowing anyone to connect to that access point
Unauthorized clients share the same spectrum as the business critical healthcare operation devices which can cause a lot of interference that has a direct impact on business continuity
Commentary:
Hospitals and healthcare organizations are entities that need to have the best cyber security. From the large amount of patient information that they have stored on their systems to the life-saving healthcare technology that utilizes a Wifi network, cyber security is definitely something that needs to stay up to date. We asked Roger Sands Wyebot CEO and co-founder, what type of threat rogue devices can present to healthcare organizations.
Latest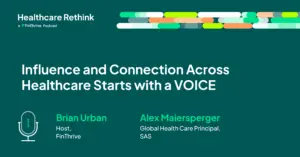 September 29, 2023
In the latest episode of the Healthcare Rethink podcast, presented by FinThrive, host Brian Urban sits down with Alex Maiersperger, the Global Principal Healthcare at SAS. Their conversation charts the role voice plays in influencing and connecting the healthcare industry. Maiersperger, who co-founded the Advancement League, shares his journey from being a healthcare optimist to […]
Read More