Using Sublingual Allergy Drops To Treat Food Allergies
On this episode of I Don't Care, Host Kevin Stevenson talked with Dr. Dean Mitchell, a board-certified allergist specializing in food allergies. Mitchell has been in practice for 30 years and became well regarded around the country as one of the first board-certified allergists to embrace sublingual allergy immunotherapy, also called allergy drops.
Mitchell did his medical residency in Internal Medicine at St. Lukes-Roosevelt Hospital (now Mount Sinai West) during the height of the AIDS epidemic. He also did a fellowship at the same institution in Allergy, Infectious Disease, and Immunology department. When he went into private practice, he really enjoyed working on allergies, as it meant he could work more with families.
"I probably would have been an old-time family practitioner because I love taking care of families," Mitchell said. "And allergy was one of the few specialties – I like specialties, too and the science behind it – where I got to take care of children, adults, and that turned out to be a lot of the time families."
Over the years, Dean Mitchell became known for his work with allergies and asthma. He even authored a book on the subject, "Allergy and Asthma Solution: The Ultimate Program for Reversing Your Symptoms One Drop At A Time." The book details his personal discovery of sublingual allergy drops to treat environmental allergies.
But, he was on a larger quest. The holy grail of allergies is treating the food allergy epidemic, according to Mitchell, and this is what he wanted to do. He kept hearing stories of dangerous interactions with food, so he dug into the research and decided it was time to use sublingual allergy drops for food.
Dr. Dean Mitchell also hosts the podcast The Smartest Doctor in the Room.
More Like This Story:
Latest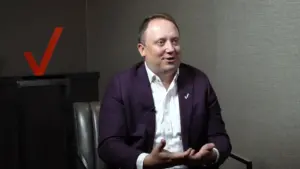 December 1, 2023
For a special episode of The Verizon Partner Network the focus was on the considerable role of partnerships in the Verizon Partner Program and the leaders shared their perspectives on the initiative. Their conversation brought about a lot of thought-providing context on the evolving telecommunications landscape. In today's era, collaboration and integration are key to […]
Read More