As Hotel Bookings Ramps Up, How are Properties Attracting Talent?
Driven by consumer desires for new experiences, innovative technologies and environmental impacts – travel is changing. Host Sarah Dandashy explores the technologies and logistics that power travel and the brands that build unforgettable experiences.
On this episode of Say Yes To Travel, I talk to Adam Bussell, the General Manager of The LINE In Austin. I have been interviewing hospitality professionals from around the world who have been fighting to stay afloat during the pandemic, talking about the past year and where the hospitality industry goes from here.
This week's guest is special because Adam used to be my boss at The London West Hollywood. When I first applied for the job, he passed on me, but he finally wised up and hired me. After giving him a hard time, I talked to him about The LINE, a boutique hotel in Austin, Texas.
Adam dove into his storied career, which has included working at some pretty cool hotels. He started modestly working as a bellman, then at the front desk, as he rose the ranks into a night manager at the Mondrian Hotel in West Hollywood. During this time, the hotel's bar, The Skybar, was at its peak. To say it was wild would be an understatement.
"Honestly, that was the best thing to happen to me because that was the hardest job I've ever had," he said.
Maybe it was his youthfulness, but he didn't realize how crazy the night shifts were at the hotel until later. Some of the best stories and memories he has of working at hotels occurred during that period. None of his experiences to date have compared.
"My top ten hotel stories, however you want to look at them, best or worst, happened during that time," he said.
In a career that has spanned from Hollywood to New York, to Las Vegas, he landed in Austin in the summer of 2019. The LINE Hotel started in Los Angeles, with another in Washington, D.C., and they plan on opening one in San Francisco next year. What makes The LINE Austin unique is that it's large for boutique hotels. There are large rooms and conference space for meetings.
The LINE Austin is housed in a former Radisson. They updated the hotel and added a bar and meeting space. Of the 400 rooms, 100 of them are suites.
When the pandemic hit, it crushed Austin. The shutdown happened during March, which is when it's the Austin hospitality industry's busiest month. But, with the cancellation of SXSW, the future was uncertain. The LINE Austin was able to reopen Memorial Day weekend in 2020, but with rising cases, they faced additional restrictions and shutdowns during the summer.
Adam shared more of his experience overcoming the pandemic and what they plan to do in the future.
Latest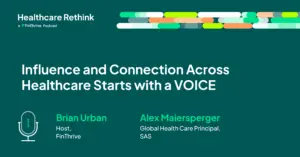 September 29, 2023
In the latest episode of the Healthcare Rethink podcast, presented by FinThrive, host Brian Urban sits down with Alex Maiersperger, the Global Principal Healthcare at SAS. Their conversation charts the role voice plays in influencing and connecting the healthcare industry. Maiersperger, who co-founded the Advancement League, shares his journey from being a healthcare optimist to […]
Read More