Las Vegas Trade Show Tips and Survival Guide
Las Vegas is one of the biggest trade show destinations in the U.S., and the city won't be giving up that title any time soon. This means the chances of finding yourself sharing a yard-long margarita with a co-worker in front of the Bellagio fountains are steadily increasing. We reached out to trade show veterans, industry insiders and Vegas experts to compile some tips for your next business trip to the strip.
1: Drink Lots of Water
We don't mean to sound like your mother, but you will need to drink LOTS of water while in Las Vegas. This is the number one tip for a reason. The buildings, lights and sounds will try their best to make you forget that you are in the middle of the desert. Proper hydration will also help prevent the infamous "Vegas Crud" and help you recover from any late-night libations.
Pro Tip: Go to one of the many CVS or Walgreens locations and pick up a case of water before you check into your room. Thank us later.
2: Utilize Monorails or Ridesharing
Las Vegas is intentionally designed to appear like every building is within walking distance. It's not. We've tried. But don't fret! Las Vegas has a few monorail systems that can help get you where you need to go. The most well-known is the Las Vegas Monorail. It has stops near many of the major convention centers, and even has a dedicated stop at the Las Vegas Convention Center. If you aren't close to a monorail or just prefer a good old-fashioned car ride, then ridesharing may be for you. Uber and Lyft are two ridesharing apps that make getting around Las Vegas much easier for the trade show newbie or even the Vegas veteran.
Pro Tip: Most Las Vegas hotels have dedicated ridesharing pick up zones. They require that you are picked up and dropped off in these zones. You can even be fined if you don't comply. Trust us.
3: Pack Appropriately
Prepare to sweat in Las Vegas. Prepare to shiver in Las Vegas. Prepare to potentially do both at the same time in Las Vegas. The blistering desert heat matched with the frigid conference halls and casinos is a combination that most Vegas trade show veterans are familiar with. Nights on the strip can also be oppressively cold, so be sure to take the temperature limbo into account when packing for your Vegas trip.
Pro Tip: Wear layers and always bring a jacket just in case.
4: Make Reservations in Advance
Want to catch a hockey game? Planning on taking a client to a nice meal? Looking to treat your team to a mind-blowing Cirque show? Two words. Plan ahead. There is nothing worse than taking a client to your favorite Vegas steakhouse or sushi spot and being told that there is no seating available. Avoid this by planning your reservations weeks or months (yes, months) in advance.
There are always hallmark events in Las Vegas, so the "There aren't any other shows in town this week" excuse can be thrown in the trash. The same rule applies for shows. Sure, you can probably find a seat at a decent show at the last minute, but the higher-profile shows sell out quick. Especially during highly attended trade shows. Avoid the stress and plan ahead.
Pro Tip: There are always discounts and coupons for shows. Do a quick Google search before you purchase tickets to find the special discount codes.
5: Visit an Industry Party
No business trip to Vegas would be complete without a visit to the quintessential industry party. Not only are these parties a great place to network, but they are a great place to unwind after a long day inside the carpeted mazes of the convention center. Be sure to bring some extra business cards. You never know who you might run into at one of these parties!
Pro Tip:  Have fun! It's Vegas after all.
---
For the latest B2B news, trends and tips check out our industry pages! You can also follow us on Twitter at @MarketScale! Join the conversation on our Market Leaders LinkedIn Groups!
Latest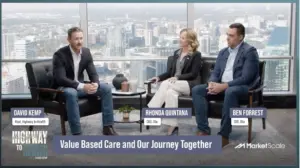 December 7, 2023
As of recent times, the healthcare industry has been progressively shifting towards value-based care, a model that emphasizes patient outcomes over the quantity of services delivered. This transition represents a significant shift that promises to enhance patient experiences and outcomes while controlling healthcare costs. With a growing emphasis on this approach, especially over the […]
Read More