Hotel Effectiveness Partners with Global Industry Leader Aimbridge Hospitality
ATLANTA, GA – Hotel EffectivenessⓇ, the leading provider of labor management software for the hotel industry, announces it has partnered with Aimbridge Hospitality, the leading, global, third party hotel management company. Through this new partnership, Hotel Effectiveness will deliver optimized labor costs for many of the company's 1,400+ hotels.
The industry is starting to recover from the impact of COVID19. As occupancy rises, hotel staffing levels will increase. PerfectLabor™, the award-winning labor management technology from Hotel Effectiveness, will ensure labor plans are directly aligned with fluctuating revenues and rooms sold along with other business drivers. Now, more than ever, companies are looking for ways to manage their hotel labor costs, accelerate the post-COVID-19 ramp-up and promote greater profitability over the long term. Hotel Effectiveness is the ultimate partner for Aimbridge to avoid excessive expenses and maximize profitability daily.
"Despite the challenges of 2020, Aimbridge's portfolio of managed properties continues to expand, in part because of our superior operating model, which includes a data-driven approach to controlling labor expenses without sacrificing quality," said Elie Khoury, Executive Vice President at Aimbridge Hospitality. "Hotel Effectiveness has been a great partner and an example of how we leverage our scale to add value for our owners."
Labor expenses are the largest component of any hotel's cost structure, and most hotels do not take advantage of the efficiencies created by technology. A well-run labor management system can reduce operating costs by up to 15%, depending upon type of hotel, driving superior Gross Operating Profits (GOP) and Net Operating Income (NOI) for owners and investors.
"We are proud to work with Aimbridge and their 1,400+ hotel managers and teams," said Del Ross, Chief Revenue Officer at Hotel Effectiveness. "We support over 5,000 hotels across the USA and Canada, and through these unprecedented times, we've expanded our relationships to include this wonderful customer and nearly all of the largest 3rd party management companies in the world. Our software integrates perfectly with their business intelligence and payroll systems, enabling every manager to make complex staffing and scheduling decisions with ease and confidence while freeing up time to pursue revenue-driving efforts. Corporate teams at Aimbridge will benefit from real-time insights and analysis that will lead to ongoing improvements and efficiencies across their portfolio."
About Hotel Effectiveness®
Hotel Effectiveness® is the only complete labor management system designed exclusively for hotels and hotel management companies. Hotel Effectiveness® helps more than 5,000 hotels across more than 70 hotel brands achieve rapid return on investment through matching employee schedules with customer demand. From economy hotels to large convention hotels and luxury resorts, the solution is a fit for all types of properties. To learn more about
PerfectLabor™ and the rest of the company's profit-boosting technologies, visit Hoteleffectiveness.com.
About Aimbridge Hospitality
Aimbridge Hospitality is the leading, global, third-party hotel management company operating branded full service, select service, luxury hotels, destination resorts, convention centers and lifestyle hotels. Aimbridge merged with Interstate Hotels & Resorts in 2019, and now represents a premium portfolio of more than 1,400 branded and independent properties in 49 states and 20 countries. Aimbridge is based in Plano, Texas and has additional corporate offices in Atlanta, Calgary, Fargo, Puerto Rico, San Clemente, Scottsdale, Toronto and Washington D.C. Aimbridge's International Division, Interstate Hotels & Resorts, has supporting offices spread across Europe in Amsterdam, Birmingham, Glasgow and Moscow.
For more information on Aimbridge Hospitality, please visit www.aimbridgehospitality.com
and connect with Aimbridge on LinkedIn.
Latest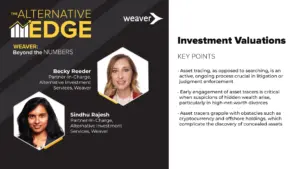 December 4, 2023
In this episode of The Alternative Edge, a Weaver: Beyond the Numbers Podcast, host Becky Reeder, an audit partner and co-leader of the alternative investments practice at Weaver, engages with Sindhu Rajesh, an Alternative Investment Services Partner with Weaver. They unpack the complexities of venture fund valuations, offering critical insights into industry dynamics and best […]
Read More