How Education is Driving Travelers to Hotels
Amy Draheim, Podcast Host and Hospitality Marketing Consultant, joined us for today's episode. It was exciting to sit down with Draheim and explore both her long history in Hospitality Marketing and the remarkable way she managed to pivot during the pandemic.
Naturally, as the pandemic hit, many hotels ended up seeing plummeting numbers. Marketing budgets were affected, and many hotels were figuring out next steps in how to survive.
Ultimately, Draheim took this time to start her podcast, How To Share, as an effort to educate hoteliers and others on marketing, travel and storytelling. Through that process, she has created a special community, inspiring different businesses to attack their unique marketing needs.
Interestingly enough, as her podcast was growing, the Black Lives Matter movement also took hold in May. Through her platform, she has been able to share voices and shed light on incredibly talented Black professionals within the industry.
Over the past few months, one of her most remarkable creations was Marketing in a Box. As Draheim reflected and looked at the type of properties she worked with versus the type of properties she opted to stay in, she noticed a disconnect. She really was passionate about smaller hotels, B&Bs and even ecolodges, and she wanted to figure out a way to help these companies.
But with the current economic climate, and with the knowledge that many of these properties are owner-operated with very small teams, she had to get creative. Marketing in a Box gives small hotels a guide to making their existing hotel marketing efforts more effective through a monthly workbook, comprehensive dashboard, and an hour-long consulting call with Draheim. The subscription, which just launched, is just $360 per month.
The growth that she has seen at some of these properties has been incredible—so the journey has been rewarding.
Some big lessons she's seen include:
When it comes to hotel marketing, travelers do not want to read about deals. Deals are not driving traffic these days. Cleanliness and safety are more important.
Keep it personal. Followers and email list subscribers want to hear from the GM about challenges and changes.
Community. Travelers are really responding to learning about how hotels are working with their community through volunteer efforts and giving back.
Of course, there are many tools she shares with her clients these days, and one of the most recent is local guides her clients can share with their guests. These guides serve as a way to provide a personalized list of what guests can expect and explore in the area around the properties.
This is just one of the many ways she is continuing to provide a high-tech and low-touch, yet personalized, experience.
For those looking to get in touch with Amy, find her on social and her podcast!
Say Yes To Travel has a new episode every Thursday!

Latest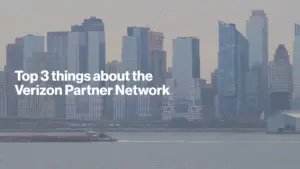 December 1, 2023
For a continuation episode of The Verizon Partner Network's special segment with team leaders, Mark Tina, VP of Indirect Channel Distribution and Channel Chief at Verizon Business Group, joined again to outline the three top aspects that define the Verizon Partner Network and its approach to collaborative success. The video centers on Tina's explanation of […]
Read More