What Hotel Markets are Currently Seeing the Most Revenue Success?
On this week's episode of Say Yes to Travel, we got to sit down with Jonathan Capps, Vice President of Revenue, and Gavin Royster, Director of Development, at Charlestowne Hotels.
They provided some great insight regarding revenue and development strategies both in the current climate and as we move past this unprecedented period into a new normal and beyond.
Charlestowne has a large portfolio of hotels in destinations around the country. The company is an interesting case study, because the size and scope and scope of its portfolio has led to unique outcomes. In many ways, having properties that are small to medium and independent in secondary leisure markets has allowed the company to manage the changes this year well.
The varied portfolio has also brought challenges, as each destination has required different protocol changes. In essence, no property faced the same protocols or requirements due to being based in different states and markets.
But there were also a lot of lessons learned. For those properties that remained open, they were training and learning "on the fly" and make changes in real-time. The benefit for those hotels that closed and reopened was an ability to glean information and best practices from some of the other properties that remained open.
A shift in marketing was also pivotal and has felt like a rebrand around cleanliness. Clean is now everything in the world of hospitality, and all of the company's hotels were able to shift with that as a primary focus.
We covered much more throughout the episode, including:
How daily responsibilities and communication/collaboration interdepartmentally and with properties in regards to revenue and markets has changed
Revenue strategies that hoteliers have adopted for 2020 and will need to adopt for 2021
Types of hotels (i.e. condo-hotels, boutique, beach) that will be most sought-after post-pandemic
Markets currently seeing the most revenue success
The future of hotel development and markets primed for "post-COVID" development
Give a listen for all the details, and for more information on Charlestowne Hotels, check out their website.

Latest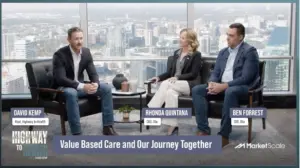 December 7, 2023
As of recent times, the healthcare industry has been progressively shifting towards value-based care, a model that emphasizes patient outcomes over the quantity of services delivered. This transition represents a significant shift that promises to enhance patient experiences and outcomes while controlling healthcare costs. With a growing emphasis on this approach, especially over the […]
Read More