Is It too Early to Think About Holiday Travel?
In late September, we saw through a series of studies that people were still very eager to travel. But, as the fourth quarter of 2020 kicks off and we start winding toward the holidays, will that trend continue?
Is it too early to think about holiday travel? Not entirely.
So far, a survey by research firm Morning Consult found that 47% of families say they will cancel holiday get-togethers. Almost half say they will shift from in-person to virtual celebrations, eating separately, watching football games on TV being played in empty stadiums and opening gifts sent by delivery trucks.
Things Will Be Different This Holiday Season
For the first time in more than 100 years, New York City won't host a public party for its New Year's Eve Times Square ball drop. Instead, the city is promising to host a virtual celebration that brings the energy of Times Square into viewers' homes. Officials are planning a scaled-back event that includes live performances, just without the crowds.
So, should you book a winter holiday flight now?
Here are three reasons to do it and one reason to wait.
The uncertainty of the pandemic has people wondering what November and December will look like and whether it's safe to fly to see friends and family, stalling the traditional holiday travel booking routine. Here are three reasons it's OK to book that holiday ticket now, as well as one reason it's fine to wait a little longer.
Holiday fares are cheap right now
If the pandemic hadn't hit, you'd be facing some pretty steep fares if you were just booking your ticket now. It is typical for people looking to travel during peak seasons—like the holidays—to book during the opposite season to grab the cheapest fare. But that's not true this year. From a fare perspective, peak holiday flights are still looking to be significantly cheaper than a normal year. How cheap? Some fares are about half the price of a normal peak-travel season.
Travel policies are getting more consumer-friendly
United, Delta, American,and Jetblue followed Southwest Airlines' longtime lead and got rid of their change fees. Some are even offering same-day standby changes free. This was a huge move that really gives customers confidence in booking flights.
Flexible rebooking and cancellation policies are great news for travelers, especially those who want to book now and decide later whether to go.
As a reminder—before you book, always read the airline's policy carefully so you fully understand what it offers. Look for change fees, a fare difference, cancellation fees (which are different than change fees) and options for airline credit.
You have more flight options now than you will later
If you book early, you'll get a better selection of flight times and days than if you wait until closer to your departure. Though passenger traffic has plummeted in recent months, keep in mind there are less flights overall.
Want to wait to book? It's probably OK
Although advance booking is always helpful, it may not be a deal-breaker this year. Ultimately, you never know how prices and availability will shake out closer to the time. As always, flexibility is key in getting the best fares.
So, what are you planning to do this holiday season?

Latest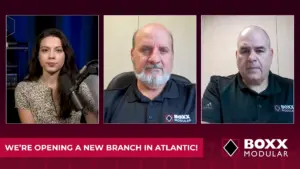 December 4, 2023
In an era where construction innovation is reshaping the industry, modular construction's growth continues to rise. In this episode of Built Modular, Boxx Modular's strategic expansion into Moncton, Atlantic Canada takes center stage. Host Gabrielle Bejarano welcomes Charles Landry and Ray Girouard to explore the implications of this venture. Bejarano, Landry, and Girouard discuss […]
Read More