Peloton Users are Loyal Fans. Can Hotels Turn This into a New Business Strategy?
Key Points:
Travelers have made it a point to seek out hotels and accommodations that include a Peloton bike.
Peloton acquired Precor for $420 million in December 2020 in order to bolster their presence in the commercial market.

Peloton's presence in hotels makes it likely that their competitors will seek to enter that space, as well.
Commentary:
It's no secret that Peloton's stationary bikes have been a massive hit for many throughout the COVID-19 pandemic. The inability to go to traditional gym and workout facilities left many wondering how they could continue pursuing their fitness goals at their homes.
While Peloton was already successful before the pandemic, their gamified approach to workouts, including rewards and shoutouts from instructors, helped fill the void for many when the exercise industry was disrupted.
With the world reopening and regular travel resuming, the question has been posed wondering if commercial customers are the next hill for Peloton to climb. As Crystal O'Keefe, co-host of The Clip Out podcast, explained to MarketScale, the appetite for Peloton products in places like hotels already exists amongst the company's user base.
Crystal also pointed to Peloton's December 2020 acquisition of Precor as an indication that the company is looking to make a big push into these facilities in the near future.
Latest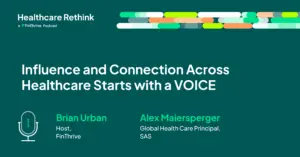 September 29, 2023
In the latest episode of the Healthcare Rethink podcast, presented by FinThrive, host Brian Urban sits down with Alex Maiersperger, the Global Principal Healthcare at SAS. Their conversation charts the role voice plays in influencing and connecting the healthcare industry. Maiersperger, who co-founded the Advancement League, shares his journey from being a healthcare optimist to […]
Read More