The Rise of Microcations: Say Yes To Travel
In this episode of Say Yes to Travel, Sarah Dandashy, Hospitality Concierge extraordinaire, discusses the rise of the 'micro-cation'. A micro-cation is a term coined by Allianz Travel Insurance, and is defined as a leisure trip lasting fewer than 5 nights.
For over a decade, Allianz has compiled their Vacation Confidence Index, surveying travelers on their vacation plans and spending while monitoring consumer perspectives on emerging travel trends. The trends and statistics that surfaced for 2019 were quite surprising:
57% of Americans did not take a leisure trip longer than four nights in 2019.
In fact, 72% of the Millennial, 69% of the Gen-Xer and 60% of the Baby Boomer generations took advantage of at least one micro-cation instead.
Further, mini-vacations are rapidly replacing the traditional week-long vacations of the past, with almost 2 in 10 Americans (18%) stating that their longest trip in the last year was 3 to 4 nights, while 1 in 10 (11%) took trips that lasted no longer than 1 or 2 nights.
With 25% of the general population and 29% of Millennials (1 in 3) saying that they took at least three micro-cations in the last year, micro-cations seem to be allowing Americans to travel more frequently.
A huge fan of combining business and leisure trips—BLeisure trips, as she calls them—Dandashy states, "What we're basically seeing is people just aren't taking advantage of their vacation time, and so they're really looking to add on to weekends and to really kind of like increase these little vacations." She goes on to say, "Personally, what I love about this is it allows you to explore more destinations. Instead of now choosing that one long week a year or, you know, a week and a half and then you decide to go to whatever city, now, you can have these mini-vacations, and next thing you know, you've gone to five different cities in a year. And maybe you use like the same vacation time, but you got to experience so much more."
Hear Sarah Dandashy as she explains what drives longer vacations for the more seasoned generations, how micro-cations allow you to diversify your vacation eggs into several baskets, the untapped U.S. cities that lend themselves to micro-cations, and more by listening to the podcast.
Latest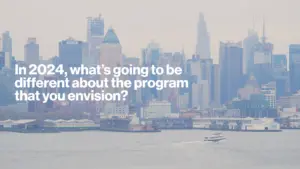 December 1, 2023
In the dynamic telecommunications landscape, Verizon's Partner Network continues to evolve, adapting to new trends and opportunities. For another segment featuring Mark Tina, VP of Indirect Channel Distribution and Channel Chief at Verizon Business Group, he explores exactly what types of significant changes and advancements the Verizon Partner Network will see in 2024. In this […]
Read More