How Virgin Hotels' Rapid Expansion is Driven by Customer Service
Virgin Hotels – it's a name popping up everywhere, most recently in Dallas, Texas, where the company just opened its latest boutique hotel offering.
The hotel, itself, doesn't leave much to be desired. It's outfitted in a luxurious, diamond-patterned covering, comes complete with a rooftop pool and spectacular views of the Dallas skyline, and provides a unique and attractive atmosphere meant to envelope guests in a holistic experience, not just provide a place to stop off for the night.
It's working, too – Virgin has plans to bring six more hotels to stateside markets and another in Scotland, marking even greater expansion.
However, it isn't the amenities solely driving this growth.
It's how Virgin treats the customer.
Customer Service at the Center
The attention to detail Virgin pours into serving its customers lies at the heart of Sir Richard Branson's Virgin empire.
The group's hotels don't stray from that commitment, offering a nearly endless list of benefits and differentiators.
Take the brand's "YES!" button. On every phone in every Virgin "chamber" – the hotels' rooms are labeled chambers, providing another layer of exclusivity and atmosphere – there's a button that simply reads, "YES!"
The concept couldn't be simpler. Press the button and be prepared to talk to a staff member ready to accommodate your impending request.
While the button is a simple concept executed at a high level, as it immediately conveys the sense of service you're expected to feel the moment you step on the property, it's far from the most important way Virgin Hotels serves its customers.
When you join "The Know," the hotel chain's rewards program, a laundry list of benefits opens up. Room upgrades, discounts, special dining offers in on-site restaurants, a free-cocktail happy hour, and personalized stays down to the drinks and pillows you like and the treats your four-legged friends do.
It's also the straightforward nature of the hotel chain that attracts clientele. The chain has a strict "No Nickel & Diming" policy that includes free, unrestricted Wi-Fi, cheaper mini-bar pricing, and more.
The Numbers Don't Lie
It's simple. Virgin has made a choice to label customer satisfaction the final indicator of performance, and the results have backed up that choice.
According to Zendesk, it's no surprise. An online survey of more than 1,000 customers revealed that 46% will continue to alter buying behavior two years after a bad customer service experience, and long-term revenue is directly tied to the quality of customer service.
Hotel chains (and businesses, in general) draw customers and drive retention in a number of ways, but, for Virgin, committing to the customer has produced immediate and measurable results.
—
For the latest thought leadership, careers, news, and event coverage across B2B, be sure to check out our industry pages.
Latest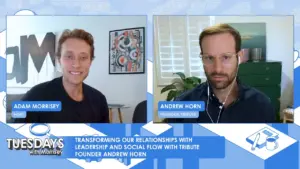 November 28, 2023
Can relationships be transformed through leadership and social flow? Navigating the intricate web of digital relationships can be a tricky proposition. Tuesdays with Morrisey's Adam Morrisey uncovers the transformative impact of emotional recognition in the workplace with Andrew Horn, the mastermind behind Tribute. This podcast edition unravels the story of a platform redefining how […]
Read More