Where Stadiums and Resorts Rank with Fiber and 5G Deployments
When most people think of the Corning name, they think of dishware and cookware. But the reality is they are so, so much more. The company even lays claim to having glass on the international space station. Jessica Janis, Head of Business Development for Sports, Entertainment & Hospitality at Corning spoke with Game Changers host Katie Steinberg on the company's advanced technology that is driving network connectivity and affordability.
One of Corning's more recent projects includes the installation of Everon™ mmWave's technology in SoFi Stadium's suites in time for the 2022 Superbowl. They worked with both Verizon and AT&T to fill service gaps to ensure fans were able to enjoy the complete digital experience wherever they were in the stadium.
Janis, who also sits on the board of the LA Sports and Entertainment Commission noted that Corning also has "cellular solutions and fiber feeding a lot of the hotels and convention centers in the (LA) area as well as LAX airport." The LAX project is exciting with Corning putting its technology at work in one of the world's largest airports as part of a massive renovation.
Other recent projects include AT&T Stadium in Texas as well as "Kyle Field out of Texas A&M. We did a full fiber system there where everything is riding over one converged network," said Janis. One thing that all these projects have in common is in creating a 5G network that is capable of supporting the increasingly digital experiences that consumers and fans expect from companies and venues.
"Today, they talk about the in-stadium experience or in-arena experience but there's gonna be a lot of what do we do with those fans once they leave. And it's the engagement through applications that they might see in the stadium that they can actually get at home," Janis said. 5G networks will continue to grow to keep these worlds connected while providing a scalable, cost-effective solution for companies to utilize.
Latest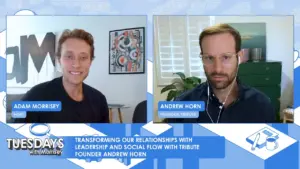 November 28, 2023
Can relationships be transformed through leadership and social flow? Navigating the intricate web of digital relationships can be a tricky proposition. Tuesdays with Morrisey's Adam Morrisey uncovers the transformative impact of emotional recognition in the workplace with Andrew Horn, the mastermind behind Tribute. This podcast edition unravels the story of a platform redefining how […]
Read More