Eric Dickerson Turns His Toughest Career Moments into Lessons for the Next Generation of Players
In this exciting episode, Eric Dickerson, legendary NFL Running Back Hall of Famer speaks to Game Changers host Katie Steinberg about the recent publication of his memoir, Watch My Smoke, The Eric Dickerson Story. Dickerson played in the NFL for 11 seasons with the LA Rams, Indianapolis Colts, LA Raiders, and Atlanta Falcons.
The conversation opens with a look into what drove Dickerson to write a memoir of his life. He shared that the idea started around 2007 when a writer friend of his told him he was a great storyteller and should share the story of his life. He decided to give it a go and they spent time with Dickerson sharing stories and his friend taking notes. Unfortunately, his friend passed away before they made any significant progress, and the book was indefinitely put on hold.
Eventually, after years of poking and prodding from friends and relatives, Dickerson decided to give the memoir another life and in Jan. 2022 the book was released to the public. The biggest challenge was finding a book writer.
The first writers sent samples but "it just didn't sound like me, at all. I mean, it's not the way I would talk. I won't forget one was like I said something like golly or gee whizz. I was like, oh man please, I would never say that. I'd say ah shit, right!" shared Dickerson. He finally found the perfect writer, Greg Hanlon, who was able to share his inspiring story in his voice.
"I just did the audiobook a couple of weeks ago and it sounds exactly like me. I mean, I'm proud of it.  the audiobook itself was very difficult to do but the book itself sounds just me and it tells my story. And one thing people know about me… I keep it one hundred, I mean I'm straight up, I'm no-nonsense, even to myself. I'm not the guy that won't call myself out on something. I call myself out on things to" shared Dickerson.
Listen in to hear more no-nonsense from Dickerson as he discusses the memoir that shares the story of his life including what it was like to be a black man in the NFL, and how his mom told him two things when he left Texas "Don't go out there and embarrass yourself and don't go out there and embarrass me." Dickerson shared that he has always "just tried to make his mother proud." There can be little doubt that he has accomplished this goal among many others.
More Stories Like This:
Latest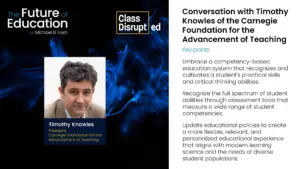 December 4, 2023
What approaches must education take in advancing teaching in a post-pandemic world? How can traditional education reshape itself to include a more dynamic, skills-based learning approach? As educational paradigms shift towards nurturing adaptability and critical thinking, leaders in the field are poised to redefine the learning framework to prepare students for a rapidly evolving […]
Read More