Calculating the Hidden Cost of Gearing Up for Smart Cities
Keypoints:
Cities have started using smart tech to collect data.
Sensors and voice activation detects things such as traffic congestion.
Smart cities allow congestion to be rerouted via retimed traffic lights.
Commentary:
Cities at large have been starting to utilize technologies, such as voice activation and sensors that collect data to support their push toward transitioning toward being a smart city. Everything has a cost, though, especially when it comes to new technology for a whole municipality, and there's an added cost as well within integrating a lot of these technologies. So we asked Steve Mazur, Business Development Director for Government Sectors, at Digi International, where most U.S. cities are facing some of this funding and rollout challenge with their innovative smart tech and why.
Abridged Thoughts:
One challenge is city sponsorship. I have seen some projects fall flat where the sponsorship for the project is not one of the operating departments within the city. Sometimes, a special committee is formed to assess the technology, which doesn't have the support going forward after completion. But, there are many successful smart city projects. I can cite a few, especially in smart traffic, where city sensors are used to detect congestion around the city, and then traffic lights are then retimed to avoid those traffic-congested areas. Also, another good example is connected street lights. LEDs have now been deployed throughout cities across the United States, and they're all connected via wireless communications. 
More Like This Story:
Stay tuned to MarketScale for more videos, podcasts, and thought leadership surrounding the future of the policy framework and technology integrations that will be powering the smart cities of tomorrow.
Latest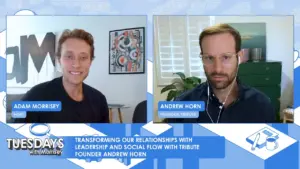 November 28, 2023
Can relationships be transformed through leadership and social flow? Navigating the intricate web of digital relationships can be a tricky proposition. Tuesdays with Morrisey's Adam Morrisey uncovers the transformative impact of emotional recognition in the workplace with Andrew Horn, the mastermind behind Tribute. This podcast edition unravels the story of a platform redefining how […]
Read More