From Streetlights to Buildings: Using Smart City Technologies in Decarbonizing Urban Spaces
In the heart of Dallas, a neighborhood previously facing challenges has blossomed into a shining example of the potential of smart city technologies transforming a community. By integrating AI-enabled cameras on streetlights, widespread Wi-Fi, and many other technological advancements, the city has witnessed a dramatic reduction in crime and a surge in the quality of life. This initiative, known as the Red Cloud project, rejuvenated the infrastructure and instilled a newfound sense of safety and morale among its residents. With an investment of $3.8 million, Dallas has set a precedent, showing that with the right approach, urban areas can harness smart city technologies to create safer, more vibrant communities. As cities worldwide grapple with modern challenges, Dallas's success story offers a promising blueprint for the future of urban living.
How can other cities take successful elements of the Red Cloud project and implement these solutions to benefit the community while simultaneously improving climate and sustainability goals?
Amritanshu Pandey, an Assistant Professor at the University of Vermont, sees many positive takeaways from the Red Cloud project.
Amritanshu's Thoughts
"I want to comment on a story about using smarts to improve the lives of a community. This particular project was the Dallas Red Cloud Smart City project. And they found that the project itself had wide-ranging benefits for the community.
In general, when I think of a smart city or smart solutions, I think about using information to make decisions to improve people's lives. And in this case, they collected information through cameras or other internet-operated devices to improve the lives of those in that community.
My research focus is on power systems and energy systems. And really, my goal is to develop technologies that help electrify the electric grid, that help decarbonize the electric grid, and really to bring flexibility into the resource mix. And that's where I feel having smart solutions or having solutions that fit under the umbrella term of smart cities is very beneficial. And I want to give a few examples here.
For instance, if we could have streetlights that could observe whether there are people on the road or not people on the road and turn on the density of the light, it could help save some money. The same goes for buildings. We could actually have buildings that can look at the occupancy of those buildings and regulate the temperature. In doing so, it can significantly reduce its carbon footprint.
These are very simple examples wherein I'm using sensors, where I'm using data, and really the internet, the power of collecting data in one place and making decisions to really reduce the carbon footprint of the technologies that we use in our day-to-day life."
Article by James Kent
Latest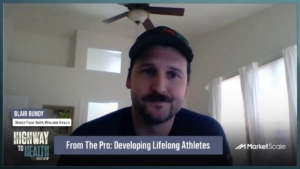 September 20, 2023
Blair Bundy, the Director of Player Health for the Milwaukee Brewers, recently shared his insights on the importance of nurturing lifelong athletes from a young age. He emphasized that the ultimate goal for children participating in sports is not just about winning games but about fostering physical and mental resilience. Such individuals lessen the strain […]
Read More