The NFT Bubble Has Popped. Should Businesses Care?
What is the future of NFTs? After a major boom over the first half of 2021, new research shows that the bubble has popped. At its height, crypto-collectible sales peaked at $100 million in a single day but have since dropped nearly 90%.
To discuss the ups and downs of NFT markets, Larry Pang, Head of Business Development for IoTeX joined Daniel Litwin for insights into the future of crypto-collectibles and the internet of things.
"I think the drop in NFT prices is temporary," Pang said. But he believes that the uses and applications of NFTs will continue to evolve. "What we're seeing a lot in the business today is not just thinking about NFTs as an asset that's simply tradable and ownable, but there's a lot of people innovating on both how NFTs are created as well as how NFTs are attached to secondary markets."
These markets may include gaming, fantasy sports, and intellectual property licensing. Because of these innovations, Pang remains bullish on future applications and investment in NFTs as they move beyond the collectibles market.
Will the merging of the digital and physical worlds make NFTs a valuable proposition going forward? How should businesses that invested heavily in NFTs adapt to the changing market? How will the Internet of Trusted Things use NFTs to build connections between creators and their audience? Litwin and Pang delve into the insights investors & industry professionals need in this rapidly evolving market.
Follow us on social media for the latest updates in B2B!
Twitter – @MarketScale
Facebook – facebook.com/marketscale
LinkedIn – linkedin.com/company/marketscale
Latest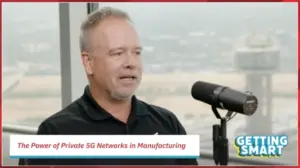 September 25, 2023
The Convergence of 5G and Automation in Manufacturing: A New Industrial Revolution The manufacturing industry stands at an inflection point. Advances in 5G technology and automation are coming together to transform the way products are made, and the role that humans and machines play in this process. Per Treven, Director of Business Development at Ericsson, […]
Read More